Home > India > Movies > Reviews


Discuss |
Email |
Print | Get latest news on your desktop

1920 is disastrously boring

Raja Sen | September 12, 2008 13:19 IST


| | |
| --- | --- |
| A still from 1920. | |
| | |
| | |
| | |
| | |
| | |
| | |
It's a peculiar attempt, this 1920. Shooting in Yorkshire -- and passing a castle there as just a hansom-cab ride away from Mumbai -- the film clearly desires to replicate classic British period chillers. The man wears a three-piece suit, the woman is in modern-day approximations of what the art director mistakes for being Victorian, and they look more the exiled Baron and Baroness instead of the Thakur-Thakrain.
It is as if director Vikram Bhatt -- who made watchable films a decade ago, we hear -- wanted to create a stulted period atmosphere just to show other horror-makers that his work is, indeed, different. Unlike the Ramsays, his is a mansion, not a haveli. Unlike Ram Gopal Varma, his film relies on footsteps in silence, not sound-design boos. And with scratchy gramophones and the use of western classical music, he seems to be trying to show us how international his film is, how classy. How British.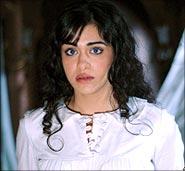 The sad fall-out of Mr Bhatt's stiff-upper-lip machinations, however, is quite simply this: In his concerted attempts to recreate a period English setting, he has managed to adequately conjure up just the stuffiness -- and has made a 'horror' film so dreadfully boring it would send James Ivory to sleep.
Debutant Rajneesh Duggal stars as Arjun Singh [Images] Rathod, a young architect who has found his dream project in an (obviously haunted) mansion that has to be torn down and made into a hotel. Meanwhile, his bride Lisa -- played by the atypically attractive Adah Sharma, likely cast because she looks anaemic enough to be a vampire'd out Countess -- is hesitant about this assignment, what with her penchant to chase after mysterious noises in the middle of the night.
So then we have a haunted mansion, a caretaker who knows better, and the local priest -- Father Thomas, I believe -- dealing with a case of eventual possession, after which we are taken into a 'back in the day' plotline (reminiscent of Bhool Bhulaiyya), something that flashbacks into malarkey about how, back in the 19th century, lady of the haveli Gayatri -- Anjori Alagh playing a patriotically horny trollop -- traps an evil soldier by seducing him. Because a knife in his back would have been too easy, you know.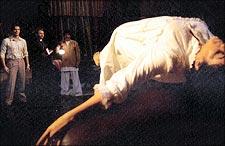 And so this patently unscary -- and really long -- movie drags on, testing your patience as absolutely everything goes on with uncaring, old-school predictability. It's like a half-hour script for a weak television horror episode cruelly yanked over full feature-length screentime, self-indulgently pretending it's better than random horror schlock because it's moody enough to contain dozens of repetitive silent moments. It isn't.
The climax is painful -- if you choose to think about it, which you really shouldn't.
The only thing scary about a film like 1920 is the fact that someone paid to produce it. Oo-er.
Rediff Rating:

Want to see this movie? Check out Rediff Movie Tickets!

Email |
Print | Get latest news on your desktop