Home > India > Movies > Interviews


Discuss |
Email |
Print | Get latest news on your desktop

The Rediff Interview / Juhi Parmar

'I was lucky to have a partner like VIP'

September 11, 2008


| | |
| --- | --- |
| Juhi Parmar | |
| | |
| | |
| | |
| | |
| | |
| | |
Juhi Parmar became a household name after playing Kumkum in the telly soap of the same name. Soon after, she won Comedy Circus Season 2, along with her stand-up comedian partner VIP (Vijay Ishwarlal Pawar).
A wild card entrant on the show, the pair went on to win the title by beating Kamya Punjabi and Rajiv Thakur in the grand finale. Rajul Hegde caught up with the jubilant winner to know more.
You were not part of the show from the start; you entered via wild card. Why?
I was approached from the start but because of date problems, I could not appear on the show. After a few days, they called me again and asked whether I would be able to enter the show as a wild card entrant. I worked out my dates and agreed to do the show.
Viewers must not have expected a 'bahu' to do a comedy so convincingly.
I have played Kumkum so convincingly that viewers are surprised to see me doing comedy. I am more like the Kumkum after reincarnation -- young and bubbly. I can relate to her. Even on the sets I keep cracking jokes, which comes naturally to me. So it is not anything new. I am trying to explore myself.
You were out of the show after two episodes.
I got an amazing response and good comments from the judges. After two episodes I was down with viral fever so couldn't rehearse much and my performance was not upto the mark. After a few episodes, as per the format, all the eliminated participants were given another chance to enter the show. I was the lucky one.
Who was your toughest competitor?
Krushna and his partner.
You said comedy comes naturally to you. Did you have to prepare?
Doing comedy was not difficult for me. I learned my lines in 10 minutes. When two people are performing, it is very important to strike a balance. That will happen only when there is proper co-ordination and practice. So we would spend more time on rehearsals.
What did you like about your partner VIP?
I am very lucky to have a partner like him. We had no ego clashes; he is a down-to-earth and lighthearted person. We ensured that each of us performed equally. VIP was the runner-up of the Comedy Circus season 1 so he knew exactly what would work.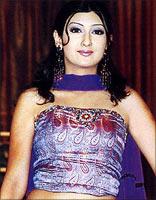 Of acting, singing, comedy and dancing, which is the toughest?
Singing was difficult because it is not my forte. I was very nervous each time I performed. The chances of something going wrong was much higher because you have to control your vocal chords.
You are playing Kumkum for seven years. Aren't you bored of it yet?
I know it is monotonous to do a show for a long time but I am lucky to have played six different characters in it. I can relate more to younger Kumkum after the reincarnation. I am enjoying playing this role.
How has the experience been so far in the Saas vs Bahu dance show?
I am not nervous, as dance comes naturally to me. I have even received compliments from the judges. I am having a ball on the show.
Are you open to more reality shows?
Yes. As an actor, I try my best to experiment with different genres.
What is the best compliment you have received in Comedy Circus?
After my last performance in the finals, all the judges gave me a standing ovation. Archana Puran Singh [one of the judges] got up and bowed. I think that was the best compliment because actions speak louder than words.
Email |
Print | Get latest news on your desktop