Home > India > Movies > Interviews


Discuss |
Email |
Print | Get latest news on your desktop

The Rediff Interview / Rajeev Khandelwal

'After Aamir, people think I'm a saleable actor'

September 10, 2008


| | |
| --- | --- |
| Rajeev Khandelwal | |
| | |
| | |
| | |
| | |
| | |
| | |
Rajeev Khandelwal wowed us in Aamir, the terrific film that got great reviews this year. Not surprisingly, the actor was flooded with offers. He chose Peter Gaya Kaam Se as his next project, and will start shooting for it this month.
Produced by UTV Spotboy, which had also made Aamir, Peter... is helmed by London-based director John Owen. Rajeev spoke to Patcy N about his new film, life after Aamir and more.
Tell us about Peter Gaya Kaam Se.
My life is revolving around Peter Gaya Kaam Se now. I think that my second film is more important than my first. In your first film, people are not judgmental. But from your second film onwards, their expectations begin to rise.
I expect good results from my work too. That's why I am totally involved in Peter Gaya Kaam Se. Even if I am physically not doing anything, I am thinking about my character and imagining myself in his place. I even think about how the reviews will be after the film's release.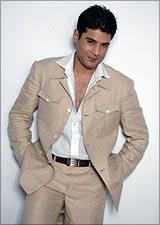 Of all the scripts you were offered, why did you choose Peter Gaya Kaam Se?
I did not understand and could not identify with most of the scripts that came to me. I am not saying that those scripts are bad; it is just that they don't fit into my scheme of things. And I always follow my instinct. I liked Peter Gaya Kaam Se the best from all the scripts that came to me.
Did you sign for Peter because the producer UTV Spotboy are the makers of Aamir?
Yes, that is a big reason why I am doing my second film with them. Why shouldn't I? If I have my way, I would like to do the next five films with them because they had faith in my very first film. Many producers saw the script of Aamir but UTV Spotboy was the only company to have faith in me and my director.
Now that my film is successful, why shouldn't I do a film with them? I am indebted to them. That said, I did not agree to Peter because of my loyalty. I did it because I liked the script. 
What is Peter about?
Peter is a hardcore Bollywood film. It is a love story with dance, song, thrills, mystery... The only difference is the presentation as the director, John Owen, is not from mainstream Bollywood -- he is from London [Images]. He will give the film an international take.
The concept is that a guy in love is a goner. Hence, Peter Gaya Kaam Se. What happens to Peter after he falls in love and the mystery angle is what the film is all about.
Peter is based in Goa [Images]; I play a Goan boy. We will shoot the entire film in one schedule -- 60 days in Goa.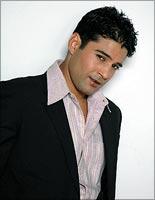 Cinematographer Alphonse Roy is from Chennai while I'm from Jaipur [Images]. I think we are a very interesting combination and this distinct flavour will be reflected in the movie.
It was mentioned somewhere that the camera used in the film is of a special kind, called the Red Camera. What is so special about it?
There are only three international films that have been shot on Red Camera. It is the latest digital camera in the world. The resolution of this camera is very high.
There are certain things about the Red camera that suits an actor and cinematographer. Actors can take 15 takes wothout the reel running out. However, there are some technical problems with the camera which are yet to be worked upon. In India, Alphonse Roy is the only cameraman, who has worked on the Red Camera. We have not yet finalised on the camera though we have shot a few test shots.
How has life changed after Aamir?
My life has not changed at all. I still buy vegetables, play tennis, and do all the things that I did earlier. My staff is the same, I eat the same food, dress the same way...
The one thing that has definitely changed is people's attitude towards me, which has become more positive. I have got my own place in the film industry now. People acknowledge me and address me with respect. I have started getting good offers. People think I am a saleable actor, and have started offering me money. But if Peter fails, I will go back to square one.
Any offers from the big banners?
If you mean Yash Raj Films, Dharma Productions or Sanjay Leela Bhansali's [Images] banner, then no, I haven't got any offers from them. For me, UTV, Studio 18 and Percept Company are big banners.
Email |
Print | Get latest news on your desktop