'Ru Ba Ru begins where other love stories end'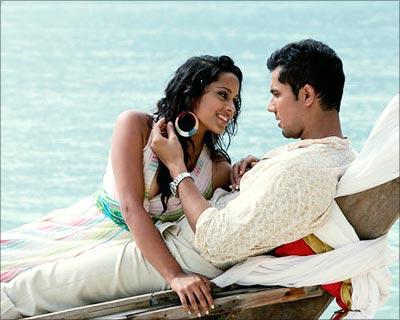 Move aside Mallika Sherawat [Images], Emraan Hashmi [Images]. There is a new couple in tinsel town doing very steamy scenes. Randeep Hooda and Sahana Goswami share some passionate lip locking scenes in Arjun Baali's Ru Ba Ru, releasing this Friday.
Sahana, who recently wowed audiences in Rock On!! -- where she played Arjun Rampal's [Images] wife -- plays Tara, a professional theater actress in Ru Ba Ru. Randeep plays Nikhil, an advertising executive. The two are in a relationship for two years until a rift threatens to tear them apart.
"The film is pure romance with a thrilling edge to it," says director Arjun. "It has no action and no item numbers."
"The story of Ru Ba Ru begins from where other love stories end in films," Randeep says. "Films show budding love and the problems faced by the couple initially, which get solved, and they lived happily ever after. Ru Ba Ru talks about the life that comes after being in a relationship for two years, living with each other, when boredom seeps in. The couple takes each other for granted and stops paying attention to the small things that matter."
After doing action films like D and Risk, Randeep tries on a new avatar. "I wanted to so something different from action films," he says. "I wanted to experiment with different roles. I never got hurt while doing action sequences in my earlier films, but got hurt in love in this film!"
"I am in complete awe of Randeep," Sahana says. "I've seen him in D and Risk. It was a pleasure working with him."
How did the film land up with the current title? "Mandira Bedi [Images] suggested this title and I thought it went very well with the story," Arjun says. "It means soul to soul or Aamne Saamne. Romance is required in everybody's life. More important is to express your love to your loved ones."
Ru Ba Ru releases on Septemer 12.
Email |
Print | Get latest news on your desktop