| | |
| --- | --- |
| A still from A Wednesday. | |
| | |
| | |
| | |
| | |
| | |
| | |
Advertisement
September 05, 2008 10:27 IST


We've had two fairly high profile movies released in the past few months that have dealt with the subject of 'terrorism in the big city'. One (Mumbai Meri Jaan [Images]) was based around a real event; the other (Aamir) supposedly sprang from the imagination of a man who was surprised to learn that a very similar film existed elsewhere in the world. A Wednesday fits into this sub-genre but is greatly removed from the other two.

To attempt to synopsise the film is to give too much away even though the narrator of the story, retiring Commissioner of Police Prakash Rathod (Anupam Kher [Images], in fine fettle) tells us exactly how the film will end within the first few minutes.

The story he tells revolves around a fateful Wednesday in the hours between 2 and 6 pm, when a man (Naseeruddin Shah [Images], at his intimidating best) called him up and let him know him that he had planted bombs in five places around the city, set to go off at 6:30 p.m. The only way for the cops to successfully find all the bombs and defuse them, is to do as the man says and to give him what he wants.

And that is all I'm going to tell you about the story.

Faith is a terribly powerful thing -- to have and to lose. It has sent men into battle for centuries, it has ripped families apart, driven wedges through friendships and it has ensured that no country, government or rule of law is so secure that it cannot be disrupted or destroyed by the employment of a faith-based directive. Faith, as well as the loss of faith, is at the core of A Wednesday. Movies like A Wednesday throw up more questions about marketing and communication than they do about good versus bad cinema. And so I wonder whether this film will find its audience.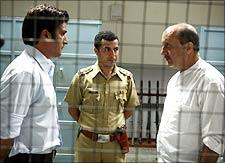 I can see why Aamir was a sexy film to promote. The photogenic leading man, the iconic red briefcase, the vastly unexplored urban terrain that was highlighted in the film, all of those elements served the film well in its search for an audience. Apart from its ridiculous title, A Wednesday is a far superior film -- in its content as well as end result.
Pacifists say that a movie is not made alone and that it is only through the strongest contributions from everyone involved that a film achieves excellence. I disagree.
No amount of praise would be enough for the performance of one man above all others in this endeavour. Naseeruddin Shah continues to quietly be one of the country's finest actors and as the spine of A Wednesday he helps this movie take credit for telling a story as well as taking a stand.
Not all actors know how to sink their teeth into an author-backed role since most of them are too busy counting songs and fight sequences or wrapped up in fretting about their 'entry scene' to understand the material they are given. As the quietly angry anonymous man with access to technology and explosives Mr Shah seems to know exactly what the writer-director expects from him. And he delivers. The man's experience as well as his training help him get under the skin of this character so effectively that there are times you can almost forget the name of the actor essaying the role.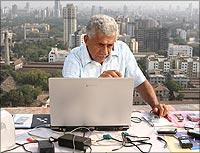 As his foil, Anupam Kher essays the role of the top cop with enough panache to make me want to request that he be given the job for real. Might help citizens sleep at night knowing that this world-weary man had an eye on things. Aamir Bashir and Jimmy Shergill [Images] essay their roles efficiently and Deepal Shaw [Images] is not given enough to do to make her a significant irritant. So good plot, effective dialogue and stellar performances are the trifecta that ensures an above average debut for writer and director Neeraj Pandey, at least on a qualitative level.
As someone who has been nourished on a steady diet of Hollywood-made terrorist dramas, I cringed a few times at some of the more ham-handed moves and maneuvers that dot the sparse landscape of this movie and I have complaints about the film's length (repetitive scenes, not always effective setting up of characters) as well as its denouement. That being said, A Wednesday manages to deliver a decent body blow (while I continue to yearn for a knockout) for the cause of smart entertainment.
Like I said earlier, faith is a powerful thing. And if it motivates you to go watch A Wednesday this weekend, most of you are certain to leave the theatres thinking, 'this is exactly what is needed,' even if you don't say it out loud.
And that is the scariest thought of all.
Rediff Rating: