| | |
| --- | --- |
| A still from Saroja. | |
| | |
| | |
| | |
| | |
| | |
| | |
Advertisement
September 04, 2008 16:10 IST


The second movie of a first-hit director is always susceptible to doubts: was the first time just a flash in the pan? Will the second prove to be a jaw-tearing yawn? Will all the hype surrounding it really work? And in 99% of the cases, the film does turn out to be a dud.

Once in a while, though, you come across a movie that not only keeps pace with the director's initial attempt but even manages to raise itself up a small notch. Amma Creations' Tamil film, Saroja, Venkat Prabhu's next offering, is one such movie. 

Taking its name from the hit song, Saroja Saamaan Nikalo from Prabhu's first movie, Chennai 600028, this movie manages to be an almost perfect mix of friendship, banter, suspense, thrills, action and a logical screenplay triumphing on top of everything else. And that is saying a lot.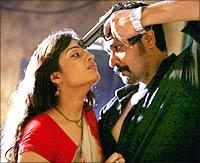 You may be forgiven in the beginning for thinking this a slow movie, considering the relaxed way the director takes you through the works: first, there are random shots of a tanker speeding along the national highway from Orissa, then there's a near incomprehensible song Cheeky Cheeky which makes no sense at first, but then, gradually fits into the general scheme of things.
But the fun starts with the introduction of Jagapathi Babu (S P Charan), Ganesh Kumar (Premgi Amaren), Ajay Raj (Shiva) and Ram Babu (Vaibhav), all firm friends -- but not since childhood or anything, since they still address each other as 'Sir.' (Jagapathi and Ram Babu are brothers as well.)
When you first meet Ajay, he happens to be mouthing inane lines, after which you discover that he's a TV serial actor -- complete with marvelous sound tracks and slow-motion scenes -- and things abruptly make sense. It's a little unclear what the rest do -- except Jagapathi Babu, who is married to a nagging wife and a daughter for whom he comes up with weird science projects.
The banter and relaxed camaraderie between them is infectious as they rib each other about life, love (Ajay is engaged to a vapid beauty Pooja, played by Kajal Agarwal whom Ram Babu fancies at one point), crack jokes at each other's expense -- and then bang!
They then decide that they're going to watch a cricket match live in Hyderabad. As preparations start in full-swing for the trip, at the very same moment, things are going very wrong at businessman Viswanath's (Prakashraj) household -- his daughter Saroja (Vega) is missing.
The police, headed by Ravichandran (Jayaram) are on the hunt, while our happy-go-lucky team sets out, meantime, for their match, having a gala time in their little 'caravan.'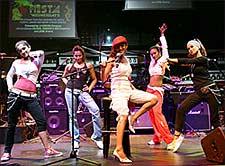 Time slots appear at appropriate points, indicating what happens when.
But the proper story begins when our four friends, about to enter Hyderabad, are forced to stop midway; a tanker lorry from Orissa has crashed, and there's an accident of catastrophic proportions. More banter ensues as everyone discusses the best way to get to watch the match, or return home. Eventually, one guy decides that he knows a short-cut to Hyderabad, and the four merrily go into the backwoods. And there their problems start.
As twilight falls, things that looked normal during the day start assuming eerie proportions. You have to hand it to the cinematographer Sakthi Saravanan: the night shots are perfect, and it's as though you really are seated in the van along with them. As talk progresses on weird things like encountering ghosts on the highway, wham! The van has hit someone. There's a body on the roadside.
It might look briefly like I Know What you did Last Summer but its not. From here on, its mostly a fast-paced ride: unwittingly, our friends have wandered onto acres and acres of a manufacturing unit, the hideout of a whole gang of gun-toting villains headed by Sampath (Sampath) and his moll Kalyani (Nikitha, who looks cute).
The charm of the story is that it's not the proverbial Tamil cinema's tried and trusted hero-beats-up-100-villains tale; yes, there are a lot of beatings, but the screenplay ensures that it's very natural. There's no artificial morphing of heroism -- the protagonists are ordinary men who use their brains and get out of tough situations exactly the way four normal guys would.
S P B Charan is the brains and common-sense guy of the team; Vaibhav is perfect as the rugged but courageous bro; Shiva is hilarious as the TV artist who looks vaguely familiar (watch out for the scenes when he runs into the villains).
Premgi Amaren, unsurprisingly, adds to the comic element with his impromptu monologues, comments and digs. He's hilarious when he falls in love with every girl he sets eyes on; even the kidnapped one. 
Prakashraj plays his regulation businessman; his role is only briefly dwelt with as it's a brief one.
Jayaram seems to love walking away from the conventional mode. Sampath, with his rugged good looks, takes away the villain beef-cake.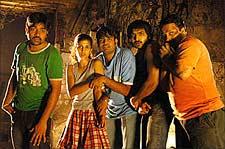 But the star, clearly, is Venkat Prabhu who walks away with honours for an honest, simple and intelligent screenplay and writing that pulls you in and keeps you in your seat right until the end. At no point does it get incomprehensible, or patronizing. And the twists are interesting. Better yet, they're not standard Tamil cinema which is a relief.
Kudos to stunt director Selva for understanding the situation and making sure there are no extraneous dishoom-dishoom pieces. Art director Videsh has done a commendable job, bringing the abandoned factory ground to life. One minor irritant though, is the special effects while editing: they give you a headache in the scenes with Prakashraj and Jayaram.
You can generally make out when a music director is having fun on a project: Yuvan Shankar Raja has understood the tone of the film and set out to provide a musical mix of old songs that appear whenever the scene warrants it. Kodaana Kodi is your typical vamp-song that makes you want to jive; Dosthu bada dosthu is likely to become the next anthem for friendship with is fun and frothy lyrics. Nimirndhu Nil is filled with adrenaline and comes at the right time.
Saroja might be a bit slow-paced, as opposed to wannabe-whizzing movies but it's logical, fun and actually makes sense. In fact the film rocks!
Rediff Rating: