Home > India > Movies > Report


Discuss |
Email |
Print | Get latest news on your desktop

Star hosts double reality show budgets

Aminah Sheikh | September 02, 2008 10:46 IST


| | |
| --- | --- |
| Akshay Kumar | |
| | |
| | |
| | |
| | |
| | |
| | |
Everyone is talking of Akshay Kumar [Images] as the new king of Bollywood after the success of the numerologically-spelt Singh is Kinng. But he may have claimed that throne even earlier.
The actor made Rs 1.5 crore for anchoring each episode of Khatron Ke Khiladi, the reality show based on the international hit Fear Factor [Images]. That is thrice what Amitabh Bachchan [Images], who Kumar regards as the only king of Bollywood, earned for an episode of Kaun Banega Crorepati's first season, the game show that turned around the fortunes of Star Plus eight years ago.
With competition rising in the entertainment channel business due to the advent of new players, broadcasters are ready to cough up huge amounts to celebrities in the hope of wooing a more fragmented audience. As a result, anchor rates have doubled and tripled since Bachchan warmed the hot seat. Naturally, the programming cost has shot through the roof.
But the channels are ready to splurge because getting a recognised face is seen as the quickest way to draw eyeballs to new channels and shows. According to industry estimates, Kumar's show cost Colors Rs 2-2.5 crores an episode. The show had 16 episodes and was shot in South Africa [Images] with models and television stars doing some hard-to-digest stunts.
"Every channel has an agenda when it decides to do a high cost show. When a new channel launches a high cost property, it is to get viewers' attention," said N P Singh, COO, Sony Entertainment Television. Likewise Sony spent nearly Rs 1.2-1.5 crore per episode of 10 Ka Dum, which has 36 episodes.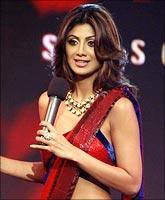 Shilpa Shetty [Images], who achieved only moderate success in Bollywood but hit the big time by winning Big Brother in the UK, is earning Rs 80 lakh for anchoring each episode of Big Brother's Indian sibling, Bigg Boss, on Colors.
Shah Rukh Khan [Images], who was satisfied with Rs 75 lakh for each episode of KBC's third season, is charging for Rs 1 crore for an episode of Kya Aap Panchvi Pass Se Tez Hain. Salman Khan [Images] gets Rs 80 lakh for each show of 10 Ka Dum. (Grapevine has it that he wanted exactly what Shah Rukh got for KBC.)
It's a similar story with the lesser stars. When Sony launched music talent show Indian Idol [Images] in 2005, it is said to have paid model Mini Mathur Rs 40,000-50,000 to anchor each episode. For the latest season, she got about Rs 1.5 lakh an episode. Singer Shaan [Images] made Rs 1.5 lakh to anchor an episode of Zee's SaReGaMaPa. He quit and moved to host a similar show on Star Plus for Rs 2.5 lakh an episode.
However, big money is not translating into stupendous success. KBC's first season used to reduce road traffic at the time it was on air. Its first two seasons topped the charts, while the third -- that was when Khan took over from Bachchan -- slipped after opening on a high note.
Panchvi Pass, on the other hand, cannot be called a hit. Zee's Rock 'n' Roll Family, with Kajol [Images] and Ajay Devgan [Images] as judges, fared worse. 10 Ka Dum's ranking as on August 8 was 90th.
Powered by

Powered by

Email |
Print | Get latest news on your desktop