Home > India > Movies > Report


Discuss |
Email |
Print | Get latest news on your desktop

Preity Zinta declared best actress at Chicago film fest

Arthur J Pais | October 27, 2008 17:10 IST
Last Updated: October 27, 2008 17:23 IST


| | |
| --- | --- |
| Preity Zinta at the 2008 Toronto Internation Film Festival. (Photograph: Getty Images) | |
| | |
| | |
| | |
| | |
| | |
| | |
Preity Zinta, whose performance in Deepa Mehta's Heaven on Earth, received warm reviews at the Toronto International Film Festival in September, has won the Silver Hugo Award for best actress at the 44th edition of Chicago International Film Festival.
The jury praised her 'for her strong yet subtle performance as a woman struggling to keep her dreams despite brutal realities.'
The film, which will
inaugurate the Mahindra Indo-American Arts Council Film Festival
in New York on November 5, is the first film in which Mehta has explored the struggle of an immigrant bride in Canada [
Images
] and the choice she has to make to empower herself away from the abusive relationship in her new home. Married to an Indian resident in
Canada
, she has to use her imagination, wit and soul strength to keep her sanity and self-esteem.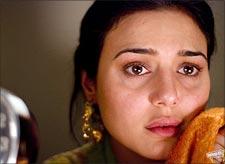 At
Chicago
, the Gold Hugo  for the Best Film at
Chicago
was awarded to the British-Irish film depicting an Irish Republican Army's prisoner in the
UK
who fasted into death. The film also featched for Silver Huge Award for Best Actor for Michael Fassbender
for his self-sacrificing performance exemplifying the ideal of "being" rather than "acting."
Like
Heaven on Earth, Hunger
was also screened at the
Toronto
event.
Zinta had said at
Toronto
that when she is old, she would remember
Heaven on Earth
as her most accomplished film and the one that is closest to her heart. Though she shies away from darker films, she confessed, she took up
Heaven on Earth
because of the strength her character is endowed in the script. Besides, she had wanted to act in a Mehta film for a long time, she added.
Heaven on Earth has Mumbai's Ravi Chopra as one of its producers.
The Chicago International Film Festival runs October 16-29; it gives People's Choice Award on its last day.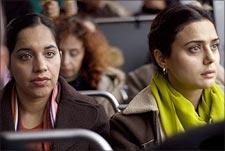 Zinta will attend the MIAAC Film Festival along with Mehta. The festival is the biggest and most prestigious of Indian film events in
America
and
Canada
. The red carpet inauguration event  will also see Shabana Azmi [
Images
] and Mira Nair, who will be co-chairing it, Salman Rushdie [
Images
], Adoor Gopalakrishnan, Madhur Jaffrey, Shashi Tharoor, Sooni Taraporevala, Konkana Sen Sharma [
Images
] and Ketan Mehta.
The festival ends on November 9 with Taraporevala's
Little Zizou;
 the directorial debut of
Salaam Bombay
! screenwriter Taraporevala will be presented by  Nair who has worked with her in
The Namesake [Images]
and
Salaam
.
The MIAAC Film Festival will also host Danny Boyle's Toronto favorite
Slumdog Millionaire
and screen as a tribute to Chetan Anand his 1946 Cannes [
Images
] Gran Prix winner
Neech Nagar
(
Lowly City)
, the first film scored by the sitar maestro Ravi Shankar.
Email |
Print | Get latest news on your desktop