Home > India > Movies > Interviews


Discuss |
Email |
Print | Get latest news on your desktop

The Rediff Interview

'Kangana's role is not inspired by Geetanjali Nagpal'

October 27, 2008


| | |
| --- | --- |
| Madhur Bhandarkar | |
| | |
| | |
| | |
| | |
| | |
| | |
Madhur Bhandarkar is one of the few filmmakers who has redefined the rules of Indian cinema with Chandni Bar, Page 3, Traffic Signal [Images] and Corporate. 

From running a video cassette library in Mumbai to becoming a three-time National Award winning director, Bhandarkar has indeed come a long way. "As an experimental filmmaker, I choose to not tread the beaten path, " the National Award-winning director says.

His latest offering, Fashion which stars Priyanka Chopra [Images], Kangana Ranaut [Images] and Mugdha Godse, too is yet another realistic work of art that tries to expose the superficiality that lies beneath the razzle-dazzle of the fashion world.

Swati R Chaudhary cornered him for an exclusive chat. Excerpts: .

Is your film Fashion a critical take on the fashion fraternity?

This is a gross misconception doing the rounds. Fashion is not about the fashion technicalities in terms of the summer-autumn couture collections. It is not even about the fashion industry politics. The fashion Industry is just the backdrop.

Fashion is an emotional saga, the journey of all the people that make up the modeling world-the designers, the models and everyone associated with the fashion fraternity. A segment of the film will showcase cut throat competition between models.

Fashion has stirred a hornet's nest in fashion circles...

I know the fashion industry is very apprehensive about my film. But they are also eager to know what Fashion is all about and how I've treated it on celluloid. My films just hold up a mirror to society. I cannot give justifications to calm ruffled feathers all the time.

When I made Corporate, some people told me I had rubbed them the wrong way. That I had wrongly portrayed the corporate industry. I even received flak for Page 3. Page 3 perennials were upset that I had presented a distorted view of socialites.

After Chandni Bar was released, bars shut down in Mumbai. Post Traffic Signal, people started giving money to beggars. I am not maligning or demeaning anyone or advocating anything through my films. I make socially relevant films that I believe in.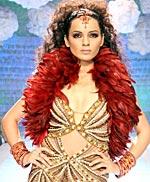 As far as Fashion is concerned, there may be some coincidental similarities but I can't help it. It's the way people are interpreting it.
What groundwork have you done for Fashion?
I interacted with top notch fashion designers, choreographers and models. I watched over 60 fashion shows and researched for about seven to eight months to understand what actually transpires behind the scenes.
I wanted to explore the murkier side of the fashion world. I attended the Wills India Fashion Week, the Lakme India Fashion Week and many other shows.
Give us a gist about all the characters in Fashion.
Priyanka Chopra plays Meghna Mathur, a starry-eyed girl from Chandigarh who comes to Mumbai and struggles to get a break in the modeling industry and attains stardom.
Kangana Ranaut plays a supermodel while debutante Mugdha Godse plays an unsuccessful model who doesn't make it to the top. She does odd jobs and is a funky and carefree woman.
Debutant Arjan Bajwa plays a struggling model and also the love interest of Priyanka Chopra.
For the record, is Kangana Ranaut playing the riches-to-rags fallen model Geetanjali Nagpal in the film?
Kangana Ranaut's role was written much before the entire Geetanjali Nagpal episode. Kangana is a supermodel who is shown doping in the film.
The only common chord between them is probably the hair do -- the curly hair-style. I don't know why the media started portraying them like Siamese twins. Kangana's role is not inspired by Geetanjai Nagpal.
What about the infamous Carol Gracias wardrobe malfunction scene? Is it still there?
Yes! It's very much there. But I have pixilated it because I knew the Censor Board would object to it.
Incidentally, the Censor Board has given Fashion an 'A' certificate.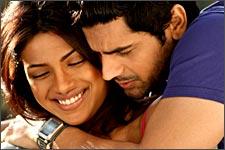 I don't understand the parameters and guidelines of the Censor Board.
In Traffic Signal, Ranvir Shorey was doing drugs, in Corporate, there was a steamy love making scene between Kay Kay Menon and Bipasha Basu [Images]. In Page 3, I'd shown cops busting a rave party. But none of these films were given an A certificate. Then why this attitude now?
I was asked to cut six scenes from Fashion. I was in no mood to relent so I went ahead with the 'A' certificate.
What about the long, steamy scene between Priyanka and Arjan? Apparently, you were asked to shorten it?
No. The Censor Board has passed it. I don't  understand the hullabaloo over this scene. It's not even so blatant and it has been done aesthetically. I don't know why the matter has snowballed into a controversy.
How did the idea of Fashion come about?
Fashion was born when I was making Page 3 and Corporate. I was amazed at the overwhelming attention given to the fashion Industry by the media and the public. I thought the idea of delving deep into the fashion world was very interesting and intriguing.
I was excited at the prospect of taking the common man behind the ramp. For the common man, the 'fashion world' is an unexplored territory. I know my stories always connect with the masses. And Fashion is an attempt in this direction.
Don't you want to reinvent yourself as a filmmaker and break free of your characteristic experimental genre?
I have always maintained that I am an experimental filmmaker whose movies do commercially well at the Box Office. I like to venture off the beaten track.
I am aware that my reputation as an experimental filmmaker precedes me. A lot of people have suggested that I move out of my realistic genre and dabble in other areas.
It'll take time for me to move out of this 'realistic zone' for the very reason that I'm known for my signature style of filmmaking. People walk up to me and tell me, "Bhandarkar please do not change. Please continue making films that you believe in. We love your cinema for the simple reason that we can relate to it."
So I don't want to let down my fans who believe at least somebody is making different films. It takes a lot conviction to swim against the tide and hold to your own.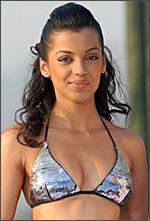 So a comedy film the Madhur Bhandarkar stable is unlikely...
I will direct a comedy film in the Hrishikiesh Mukherjee genre. And I definitely want to make a realistic love story. As a filmmaker, I know I need to be well versed with the nuances of these art forms as well.
What do awards mean to a three-time National Award (Chandni Bar, Page 3, Traffic Signal) winner?
Awards mean a lot to everyone. It is an acknowledgement of your hard work and it's a morale booster. Expectations rise higher so you perform better.
Do you enjoy what your contemporaries make?
I thoroughly enjoyed Karan Johar's [Images] Kuch Kuch Hota Hai [Images] and Sooraj Barjatya's Hum Apke Hai Kaun. I hugely admire David Dhawan's cinema. I am a hardcore Manmohan Desai fan. I never differentiate between a Manmohan Desai and a Shyam Benegal [Images] film. They are both masters in the own way. I enjoy the other genres as much as I enjoy the realistic genre. I have seen Ardh Satya [Images] at least ten times and I even enjoyed Amar Akbar Anthony. I loved Rajkumar Hirani's Munnabhai [Images] MBBS. I had a whale of a time watching Rock On and A Wednesday.
Tell us about your forthcoming film Jail?
I am still working on the script. I am working out the nitty gritties of the film. It's the story of a common man stuck in circumstances who lands up in jail.
Email |
Print | Get latest news on your desktop