| | |
| --- | --- |
| Venkatesh | |
| | |
| | |
| | |
| | |
| | |
| | |
Advertisement
October 22, 2008 10:04 IST


Telugu superstar Venkatesh had a great time chatting with his fans on Rediff Chat on Tuesday. Victory Venkatesh, as he is popularly known, discussed his movies, including the Tamil film Marmayogi, his life's philosophy, and much more.

For those who missed the chat here's the transcript.

Venkatesh says, Hi, its great to be here and doing a live chat with you. Waiting for your questions
---
athidhi asked, hi sir. can we expect another cop movie. your garshana was really great...
Venkatesh answers, I'm just working on the script. Gautaman [the director] is very keen to get the right script. So once we get the right one, I will be on it.
---
anish asked, why u did not go for any Hindi movie even after grand success of Anari
Venkatesh answers, It was a difficult call for me to shift base to Mumbai even though I got a lot of offers. Maybe I was destined to be in the South all these years. But I am seriously planning to work on some interesting scripts by 2010 and do some Hindi films.
---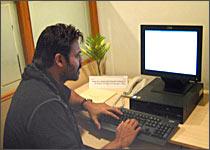 praveenpat asked, You have been acting so many entertainers over the years. I have always admired your acting ability. Don't u get bored by doing same films again and again? Don't you like doing serious cinema for artistic satisfaction?
Venkatesh answers, What you want and what you get is what you have to accept even in films. So you choose the best at that time. I do get bored doing the same thing over and over again. You have to wait for the real challenge.
---
hivgalz asked, Hi Venky is true tht ur part of Marmayogi's team?? what made u accept the offer?? (Since you have to share screen wt Kamal Hassan [Images]).. Is it gonna be a blink miss role??
Venkatesh answers, Yes, I am part of Marmayogi. I am gonna get a great opportunity to act with one of the finest actors of the country. Don't worry, it won't be a blink and miss role.
---
gosomu asked, how strong r u spirutually ??
Venkatesh answers, For me spirituality is serious business. So for me God is not casual. I think the best thing which has happened to me in life is I took a strong liking to all the spiritual masters who have made me very strong in life.
---
parnair asked, hai venkatesh,i am from kerala,and i have seen ur movies a lot.what do you say about ur fans in kerala?
Venkatesh answers, I have to thank all my fans in Kerala [Images] because they have made all my movies like Malleswari, Lakshmee, Thulasi, big hits there. I have visited Kerala and I love the people there. I am sure one day I will do a good Malayalam film with all your superstars.
---
xian asked, hi this is xian from thailand.i follow all ur movies.The latest chintakayala ravi is awessome
Venkatesh answers, Thank you Xian for seeing and enjoying my film. We've done lot of shooting in Thailand and I have had a great time. Should be visiting Thailand for Marmayogi too.
---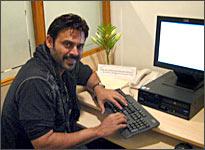 Shivgalz asked, Hi venky... I'm an ardent fan of u from Malaysia.. Though I dont understand Telugu but I still enjoy ur acting n all ur movies..
Venkatesh answers, It's great to have fans like you in Malaysia. I'm glad I'm doing films which are reaching out to all of you there. Have a nice day.
---
venkat1 asked, hi venky , ur good in humourous scenes as well in emotional scenes but one thing dissapoints is some of the comedy scenes in ur movie are actually from Mr.Bean.apart from that its a great treat to watch ur films
Venkatesh answers, There's nothing wrong about being influenced by Mr Bean. He is one of the greatest comedians with a wide range of expressions. A lot of children identify with his comedy, so I kept children in mind and did the scene and they thoroughly enjoyed it.
---
Jenny asked, Hi Venkatesh, I'm a telugu from Kolkata and have been living here since birth. My family and I are big fans of you and we never miss an opportunity to get the latest news or watch your new releases which our cousins send us - DVD. In short, you are a great actor and a gem of a person. Please do not join politics which have their ups and downs but please continue your good work of acting and our best wishes are that you will continue to touch many more hearts and bring a smile on their face.
Venkatesh answers, I've had a great time in Kolkata shooting for Lakshmee. I met a lot of fans who liked my Hindi film Anari. They kept calling me Rama. Thank you for watching all my films. Don't worry, I won't join politics. May God bless you and your family with all the happiness.
---
adiadi asked, Hello Sir.. I had seen u in the film Taqdeerwala with Raveena Tandon [Images].. U wer too gud and also I liked the part wen ur eyes twinkle and smoke comes out of ur ears.. super sir superb.. vl u do any more films like that.. Aditya
Venkatesh answers, I hope to enter the Hindi cinema by 2010. I'm preparing some interesting scripts which will reach out to the multiplex audience.
---
dileep asked, Hi sir i am ahard core fan of from 15 years
Venkatesh answers, Dileep, I am really happy to have fans like you. Your encouragement always helps us going. Have a nice day.
---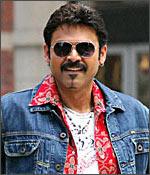 sai_krishna asked, venky, Sai from bangalore..your movies are the best in telugu, I watch all of them..what is next movies..please do one more movie with Trivikram..I know each and every dialogue of nuvvu naku nachav and malleswari..
Venkatesh answers, Trivikram and I are planning to work in 2010. We guarantee that we will give you better films than Malleswari and Nuvvu Naaku Nachaav.
---
SaratChandraMadala asked, I work in tata Power Jamshedpur and I request you to come here and meet all the Andhra People here for once. Here around 60,000 Andraites are living in a City with 20 Lakhs population. So why dont you find some market here. Previously Stars like NTR, Jaggayya used to come here.
Venkatesh answers, I am unaware of so many Telugu people living in Jamshedpur. I'm glad you brought this to my notice. Regarding the market, I will keep the distributors of my movies posted. I'll try to make it some time to Jamshedpur.
---
SaratChandraMadala asked, Whats your philosophy on Life?
Venkatesh answers, Accept life the way it is. Don't ask for anything in life, at the same time don't refuse anything. Take every thing as it comes and live the moment.
---
ManikandanBose asked, Hi Venkatesh.. Do you have any idea in Acting Tamil Movies..?
Venkatesh answers, I would like to act in all languages very soon.
---
mragha_9 asked, Hi Venkatesh, Iam Swathi from USA.I really want to chat with u but these rediff guys have scheduled it in such an odd timing-2pm that means early morning 4am for us.Anyway, all the best and keep doing more & more good movies!
Venkatesh answers, Thank you for logging in even if it was such an odd time. Wishing you all the best in what you are doing.
---
ffavour asked, hi venkatesh, how r u? i think u r the most humble and dedicated actor in the tollywood.
Venkatesh answers, Thank you so much. Have a great day.
---
Srilaxmi asked, Hello Venky, I am srilaxmi. I am a big fan of you and have watched all your movies. I watched chintakayala Ravi in London [Images] and it is very good. I am waiting for your next movie. Please come to London once.
Venkatesh answers, Thank you for watching and liking my film. Please convey my good wishes to all the Telugu fans in London. Should be visiting London next year.
---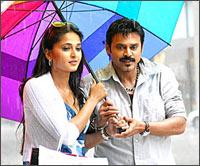 venkipenki asked, venki what do u think about the future of the great telugu cinema?
Venkatesh answers, I think the younger generation of actors in our Telugu cinema are capable of taking it to greater heights provided they get the right scripts.
---
Vasu4u asked, Hi Venky, when are you going to work with Mani ratnam or ram gopal verma or shankar. I love to see you with them..
Venkatesh answers, All of them know that I am very interested in working with them. So pass on the message to them.
---
madhav asked, Hello Sir, its the season of remakes/sequels.. like yugandhar in telugu, billa in tamil,.. do u have any plans of that sort...? I wish i could see you as "bobbili raja" once again..
Venkatesh answers, We are working on the idea of a sequel to Bobbilli Raja. I might be in that or my nephew Rana.
---
Sumanth D asked, What is your comment on the overexposure in movies today? It was not the same case before and still movies were big hits. Today exposure sells. Your comment?
Venkatesh answers, I am not for over exposure in movies. This is my stand but I have to respect what other people think.
---
Venkatesh says, It was wonderful chatting with such great fans. Wishing all of you a wonderful life.