Home > India > Movies > Reviews


Discuss |
Email |
Print | Get latest news on your desktop

Rahman excels in Yuvvraaj

Sukanya Verma | October 21, 2008 16:28 IST


| | |
| --- | --- |
| Salman Khan | |
| | |
| | |
| | |
| | |
| | |
| | |
That A R Rahman is a master composer is no biggie. What is truly commendable is that he has earned an unblemished reputation of someone whose name alone sends promises of astounding melody. And so, at the risk of gushing, I'd say any soundtrack by him is like an event itself, more significant than hugely popular stars and their purported demigod status.
This year, he took us on a breathtaking tour of royalty and romance with the majestic Jodhaa Akbar [Images] and followed it with the frolic-filled, foot-tapping trendiness in the youthful beats of Jaane Tu [Images]... Ya Jaane Na.
Next, he helms Subhash Ghai's [Images] lavishly-staged, Yuvvraaj, inspired in soul and element from European and Indian classical as well as Rahman's exclusive library of imagination. Being a wide-ranging musical, Yuvvraaj, starring Salman Khan [Images], Katrina Kaif [Images], Zayed Khan [Images] and Anil Kapoor [Images], like Ghai's Taal [Images], is every music-aficionado's delight.
Here's why:
Besides the CD layout, there's not much Yuvvraaj shares in common with Taal. The latter was deliberately theatrical and consisted folk-tune flavours. This one is marvelously smooth and meadow-fresh, conjuring lilting images of Prague and Austria, where it has been extensively filmed. At the same time, it packs in enough complex emotions of its own.
The soundtrack opens with Main hoon Yuvvraaj, wherein Salman Khan spews hard-to-miss sarcasm, introducing himself as the proverbial 'bad boy' against the etched-in-every-memory Fifth of Beethoven (performed by The Chennai String Orchestra). He has a point to prove, a notion to dispel. And he does it, with spirit, beauty and Benny Dayal (of Pappu can't dance saala fame)'s striking vocals, through Gulzar's [Images] wistful poetry and Rahman's inventive intricacy of Tu meri dost hain.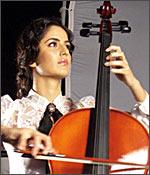 The lingering rhythm of Tu meri dost is swapped for the zingy, retro, disco-friendly beats of Shano Shano. An animated line-up of singers, right from Sonu Nigam [Images], Srinivas to Sunaina, Vivienna Pocha bring the house down in this club-meets-lounge ditty.  Its remix by Krishna Chetan, featuring Ember, is a dry and darker rap-inclusive interpretation of the racy original.
Tu muskura is a lyrical delight sending a wave of goose bumps across the enamoured listener. Gulzar's vivid wizardry pours its heart out through verse like, 'Sharir see yeh muskurahatein teri. Badan main sunti hoon main aahatein teri.' Needless to say it takes Rahman's exquisite touch to cast these delicate words into the silhouette of his melodies.
Sonu Nigam lends his characteristic velvetiness to the peppy hues of Mastam mastam, again overflowing with Gulzar's graphic thoughts (Bheje mein bhochal hain, pairon mein paatal hain). Effortlessly free-flowing, Mastam's USP lies in its being entertaining and silvery, at once.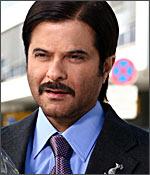 Misty-eyed poignancy breathes effectively through the melancholic realisation of Zindagi. Rendered with excellent restraint and stirring sentiment by Srinivas, against Rahman's deft play of woodwinds and breezy strings, this is easily one of Yuvvraj's best compositions.
Piano, cello and other participants of a grand orchestra and powerful chorus create a vision of escalating drama of sibling bonding under Rahman's intense guidance and signature alaap. Dil ka rishta is his brand of symphony, generating a state of big-screen showmanship and mellifluous festivities.
The vigorously classical notes of Manmohini morey, with a conspicuous stamp of Rahman's whiz-kid personality, are grippingly and flawlessly translated by Vijay Prakash.  
Ultimately, Yuvvraaj is a triumphant score from the maestro. For all its meticulous arrangement and old-world grandeur, it's essentially deep-rooted in timeless melody, which seldom disappoints.
Rediff Rating:

Want to see this movie? Check out Rediff Movie Tickets!

Email |
Print | Get latest news on your desktop