| | |
| --- | --- |
| A still from Karzzzz. | |
| | |
| | |
| | |
| | |
| | |
| | |
Advertisement
October 17, 2008 18:19 IST


The first thing these remake directors need to really do is to pay obeisance to Laxmikant and Pyarelal. Just like we saw with Shah Rukh Khan's [Images] take on Don, the most memorable thing about Himesh Reshammiya's take on Karz is the theme tune recycled from the original.

Outside of that, it's all filler.

Director Satish Kaushik's half-baked attempt to adapt Subhash Ghai's [Images] much-revered reincarnation thriller, gives us a long-winded and rather exhausting watch. The plot is essentially replicated, but ironically the film is dumbed down -- as if audiences of today aren't as savvy as they were a couple of decades ago. Add to that a horribly cardboard Urmila Matondkar [Images] and an inconsequential Shweta Kumar in leading roles that required actual actresses.

The only performer in the film is Danny Dengzongpa, the perpetually in-form veteran playing a deftly comic character who encyclopaedically references Bollywood quotes, going as far as to quote Himesh's last hit -- possibly the only gag in the film that doesn't fall flat.

Download wallpapers and ringtones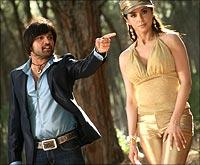 And what of the leading man? Well, he's surprisingly watchable. Reshammiya has clearly given this film his all, and despite a more than evident lack of natural thespian talent, deserves an A for effort. There is a naive earnestness to him, as if he truly believes in the characters and the outlandish story. More importantly, so obvious is his glee at being able to live his dreams -- of playing a rockstar who makes women faint -- that his sheer enthusiasm, even if misguided, is infectious enough to make you like him.

Yet while Himesh the 'actor' manages to do tolerably, the same can't be said for the composer. This is a film positively laden with songs, and -- save for the classic Ek Hasina Thi track from the old film -- they're all completely forgettable. As a result the film drags on and on, at least a good forty minutes longer than it should, and we don't even have anything dancefloor-worthy to show for it? Sigh. Perhaps the earworms lived in the now-discarded baseball caps.

Very few remakes can justify their existence. While not objectionably bad, Karzzzz is a completely unnecessary production, and all it can justify is the Zs in the title.
Rediff Rating: