Advertisement
October 16, 2008 11:40 IST
Last Updated: October 16, 2008 13:26 IST


I was nine years old when I saw Pete Clemenza take a whizz in the middle of an open field. Less than half a minute later, Paulie Gatto, the Godfather's bodyguard and the man who had betrayed the Corleone family, was dead. Richard Castellano, who played Clemenza, looked over the job done and casually left the corpse in the parked car.

As he did so, Clemenza asked his associate to 'leave the gun, take the cannoli,' prompting me to ask my mother what a cannoli was, a food-related question she had very little patience for especially when vehemently opposed to my father and grandfather letting me watch bits of The Godfather with them.

It's a ridiculously vivid recollection -- I remember the frame exactly, even though it's the only scene I remember from back then -- but as memories of watching that American epic movie go, it's kind of appropriate, involving both family and food.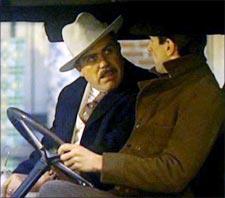 Like all of us, I grew up awed by Francis Ford Coppola's masterpiece. That video-cassette was watched and rewatched till my pre-teen years were shadowed by a mortal fear of piano wire, a gleeful romanticisation of bags of fish, and calling my best friend -- the closest of the close, the most trusted -- my consiglieri. Mario Puzo's novel left a huge impact, but it was the film that blew me away, affecting young me like millions of other slackjawed lads, in an overwhelming -- and profoundly male -- way, something that led to a lifelong obsession with the moving pictures.

And yet it is only now, nearly two decades later, that I feel I've finally seen the film. The Godfather, its fantastic sequel and that misunderstood third film have been spiffied up digitally and restored to super quality -- complete with remastered sound -- in a lovely box-set called The Godfather: The Coppola Restoration, and for all of us fans, it's a DVD-set we can't refuse.

The problem with The Godfather and Godfather II was that they became hugely successful in the early and mid-70s, which meant prints of the film were constantly watched and rewatched. As a result, the original prints lost their sheen while archival copies of the classics were themselves duplicated far too many times in the need to create more copies.
So abused was the celluloid saga that, according to Coppola, nobody watching the film in 1980 or beyond -- which means mostly all of us, plus anyone who ever saw it on home video -- ever got to see it as intended. The film appears overridingly dark, even in scenes where the darkness wasn't intended to be more than an undertone, and there are cuts and scratches every five seconds of film. The films -- and performances therein -- rose obviously above their abominable presentation, but the lack of quality was lamentable.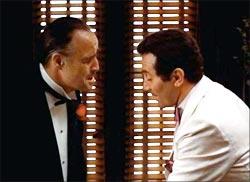 All that changes now with this tremendously exciting box-set, one that makes you feel like you're watching The Godfather with a whole new set of eyes. There is an all-pervasive, wonderfully warm orange-gold tone to the proceedings, and the visuals have become impressively crisp. There is still that dark aura to the iconic scenes, but its darkness achieved in measured contrast with light, not just patches of black screen.
The difference is incredible, and only now can we come to grips with the film's stupendous attention to detail; only now do I finally understand why Coppola had to use a real horse's head for the infamous Hollywood scene.

Steven Spielberg [Images], on one of the on-disc documentaries, speaks of how Francis sent him a lovely congratulatory letter when he just joined Paramount, where he then added that since he was indeed at Paramount, maybe something could be done to restore The Godfather movies.
The result was a big-budget immediately put aside for restoration, consulting the brilliant cinematographer of the films Gordon Willis, at every stage. Just because you can enhance the light of a scene doesn't necessarily mean you should change it, and this restoration has worked with discretion to re-produce two films to a glorious beauty. Godfather 3, made in 1990, didn't need visual restoration at all, though the sound there has been enhanced as well.

The truly overwhelming thing about Coppola is just how frank and generous he is when speaking about his process, sharing techniques, anecdotes and shooting difficulties throughout his candid commentary tracks. They alone are worth the price of the box-set -- especially when he's talking about some on-set hi-jinks involving his young actors -- but there is a plethora of special features on these discs, including some marvellous audition shots: Martin Sheen auditioning for Michael, Al Pacino's [Images] role; James Caan, who played Sonny, auditioning for Michael; and, perhaps best of all, Robert De Niro [Images] auditioning for Sonny's role and being so bloody 'killer' that Coppola couldn't cast him as Sonny simply because he'd have eaten Michael up on screen. The incandescent actor did make an impression, though, and when Puzo and Coppola toyed with Godfather II and wondered who could possibly play the young Marlon Brando, Bob's name came up instantly.

The special features -- I suggest you discover the rest of them on your own -- also draw your attention to the fact that these were a very difficult set of films for Coppola to make. He was a young, independent director picking up on a novel Paramount bought keeping other filmmakers in mind, and consistently had to prove his mettle.
He fought tooth and nail over his casting decisions, and so on the line was his job that there was another director waiting in the wings, waiting to take over as soon as Coppola was scrapped. His boy Pacino, stuck in a role originally envisioned for Robert Redford, faced giggles from the crew every time he shot a scene, but Coppola made it stick. He made it all stick, and eventually made three movies exactly the way he wanted to -- right down to using his father, mother, sister and daughter in them. The movies benefited hugely as a result, being -- more than anything else -- about family.

I have never felt prouder of a DVD purchase. Don Coppola, I salute you.

Go grab the DVDs now, and I guarantee no regrets. Here you go. I know I sound like a commercial, but I just can't help it. Mail me with your single favourite Godfather scene, or quote at senterfold@rediffmail.com. I'll catch you all next week, and remember to never go against the family. Ciao.