Home > India > Movies > Interviews


Discuss |
Email |
Print | Get latest news on your desktop

The Rediff Interview

'Himesh's performance is the USP of Karzzzz''

October 13, 2008


| | |
| --- | --- |
| Satish Kaushik | |
| | |
| | |
| | |
| | |
| | |
| | |
Actor-director Satish Kaushik is unfazed about Karzzzz. "Comparisons are inevitable but unavoidable. Karzzz [Images] is my way of paying homage to the mesmerising cinema of 80's, to Subhash Ghai's [Images] revered cult film Karz." Kaushik says.
The filmmaker also cannot stop gushing about Himesh Reshammiya [he plays rock star Monty, immortalised by Rishi Kapoor [Images] in 1980's reincarnation drama]. "Himesh's performance is the USP of Karzzzz. He has outperformed himself as an actor as well as a musician in this film," Kaushik adds
Kaushik to Swati R Chaudhary about Karzzzz, his first international movie, Brick Lane and his upcoming film on teenage pregnancy. Excerpts:
What prompted you to remake the timeless classic Karz?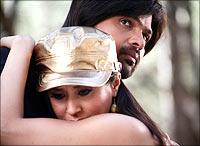 Bhushan Kumar (of T-Series) and Himesh Reshammiya [Images] came up with the idea of remaking Karz and they contacted me. I jumped at the offer because I always dreamt of an opportunity like this. I have great respect and admiration for the 80's cinema. I was always smitten by the mainstream Hindi commercial cinema.
So when Karzzzz was offered to me, I thought it was an opportunity for me to pay homage to the cinema that I'd always worshipped, to those revered characters played by Rishi Kapoor, Simi Garewal [Images] and Tina Munim. Remaking Karzzz was like revisiting childhood.
How did Subhash Ghai react at the prospect of remaking Karz?
T-Series acquired the remake rights from Subhash Ghai's Mukta Arts [Get Quote]. This explains it all. Besides, Subhash Ghai and Rishi Kapoor wished us well when we began filming. We sought their blessings when the film got rolling.
How much have you drawn from the original Karz?
We have retained the core essence of the film. The basic story line is intact and so is the cult song, Ek hasina thi. We have retained the soul of Karz. The modern day Karzzzz is novel, it has a strong visual appeal and the music caters to today's generation, though the original music is timeless.
I have done everything in my capacity to ensure full justice to the brand Karz. No one is trying to outperform anyone and neither is Himesh Reshammiya trying to outdo Rishi Kapoor. The attitude is that of a student who pays homage to his teacher. Keeping today's generation in mind, we have modified the script accordingly.
Urmila Matondkar's [Images] character is far more conniving than Simi Garewal's, while Gulshan Grover [Images] has his own twang to Sir Juda. Debutante Shweta Kumar who is playing Tina Munim is more than a school going teenybopper.
Himesh Reshammiya plays the role immortalised by Rishi Kapoor. Do u think he fits the bill?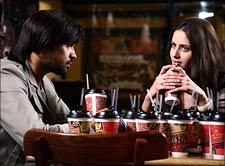 Himesh Reshammiya plays Monty, a rock star who is phenomenally popular. Monty is an orphan who is very humble and emotional. His character is very raw and earthy. It's basically a multifaceted character. Some visuals from the past keep haunting him and he experiences a sinking sense of deja vu every time he plays a particular tune on his guitar. He goes into a trance of sorts.
Himesh fits the bill perfectly because he epitomises the dreamy eyed rock star image with those lost eyes, that vulnerable face and all those attributes that made Rishi Kapoor's character popular.
Urmila Matondkar plays Kamini, the role essayed by Simi Garewal in Karz...
Urmila is far more shrewd and venomous than the original Kamini. She is much more glamourous, suave and seductive. I used to jokingly tell Urmila that her name is apt to the character she plays. She looks like an actual kamini onscreen.I think Simiji will be very happy to see Kamini interpreted in a different way. I was awed by Urmila's acting prowess in Pinjar and Rangeela [Images], not to mention her laudable performance in Ek Haseena Thi.
How did you zero in on debutante Shweta Kumar?
Shweta is my friend, director Indra Kumar's daughter. We wanted to cast a new girl opposite Himesh and Shweta fitted the part perfectly. In fact I was keen on casting her for my forthcoming film Tere Sang. She is very causal and natural in front of the camera. She is a good dancer too. Karzzzz will definitely give her footing in terms of furthering her career. It's a good platform for her and she will definitely grow as an actor.
Shweta plays Tina Munim's part but we have upscaled her character. She is not as innocent as naive as the original character. She plays the role of a mature girl studying in a catering college.
Tell us about the music of the film?
The music is doing phenomenally well and is scaling charts. Someone like Pyarelalji endorsing Himesh's music is quite a high. Music is like fashion, it's transient and cyclical. Our music is very youth-oriented and captures today's flavour. Himesh has sorted it well. 'Lut jaon' is a lounge number, 'sisak sisak ke' is a rock number, 'tandori nights' is the quintessential discotheque song and then there is 'hari om'. So the music has been composed in such a way that it caters to every segment.
What is the USP of Karzzzz?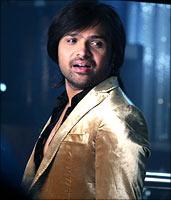 Besides its music, Himesh Reshammiya's performance is the USP of Karzzz. Audiences are in for a breathtaking, shocking performance by Himesh Reshammiya. He has brought his own magical charm to the film. The thrilling dramatic moments and musical high is bound to leave audiences spellbound.
We have repackaged the film in our own style. I was floored when Himesh hummed some tunes to me including Tandoori Nights, Lut Jaon and Hari Om.
You won accolades for your performance in Brick Lane...
I accepted a lot of funny roles to survive in the industry but Brick Lane is a role that every actor yearns for. I was selected out of 200 actors from all over the globe and my performance was applauded by one and all. Brick Lane is my first international film and it has opened up new avenues for me as an actor.
What else is coming up?
Tere Sang is one of my forthcoming films starring newcomers Ruslaan and Sheena. It's a relevant subject that deals with the issue of teenage pregnancy. Then there is Hey Gujju starring Himesh Reshammiya and Suraj Barjatya's period film on the life and times of Akbar's courtsman Tansen. Milenge Milenge is ready for release and, in all probability; I am judging a reality show on 9X.
Email |
Print | Get latest news on your desktop