| | |
| --- | --- |
| A still from The Accidental Husband. | |
| | |
| | |
| | |
| | |
| | |
| | |
October 10, 2008 12:35 IST


The title pretty much gives away the entire plot of this forgettable romantic and supposedly comedy film, more appropriately the film should've been titled 'Glitch' for the word is monotonous throughout the first half. Secondly, the central theme seems to be "accidentally" inspired from the Will Smith [Images] starrer Hitch; and this could've been a terrible sequel.

So here our Kill Bill [Images] bride is reduced to a gooselike Dr Emma Lloyd (Thurman), soon-to-be-bride who is a relationship expert and hosts a radio show 'REAL Love'. On one of her shows she advises caller Sofia (Justina Machado) who's about to marry her fiance Patrick Sullivan (Jeffrey Dean Morgan) to do what she feels 'deep inside' (calling off the wedding, which she ill-advisedly does) thereby making an average case of pre-wedding jitters to a frivolous tragedy.

Hence, payback time. Patrick reasonably wants to call it even, seeks revenge and with the "accidental" help of a cyberpunk friend gets himself married to Emma. Now the drollery starts rolling with Emma and her fiance Richard (the eternally-unfortunate-safe-bet Colin Firth, wasted in this one) depending on Patrick to get their "accidental" marriage annulled. In the process, Emma and Patrick fall in love and then you can guess the second half's "accidental" triteness and win some peace of mind.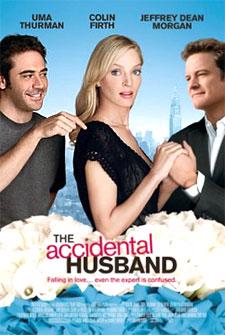 The film has its light moments but the problem is that it is very rare or perhaps "accidentally" shot. This 90 minute suffering could have been funny even humorous with the Indian angle (Samosa Palace) explored a little more in depth.
Alas! The only moment that makes you laugh-out-loud is a neat slap on Deep's (Ajay Naidu from the Loins of Punjab Presents) undisguised bald head. You cannot help but notice how ordinarily the film is directed, especially the telephone scene where Emma juggles between talking to Richard and Patrick at the same time. The chemistry between the three main leads is almost negligible.
You really want to like Thurman for her audacity in accepting such a role. The actress tries hard only to make you realize in the end that she was an "accidental" cast for a role veritably suited for Cameron Diaz [Images].
Jeffrey Dean Morgan is sincere and has the best scenes of the lot. And did the director "accidentally" forget to thank Colin Firth for his stress-eating peek-a-boo that almost seemed like a guest appearance?!?!
This devoid-of-interesting-twist-and-turns love triangle leaves you nothing but bemused as it reaches the rosy and commercially unavoidable happy ending, with the only surprise in it being A.R Rehman's song burnt over the credits as you lazily crawl towards the exit door. Asian audiences will probably savour the subtle snips of Bollywood ragas but if not for a one-time-watch this "accident" should be best avoided.
Rediff Rating: