| | |
| --- | --- |
| Sakshi Tanwar | |
| | |
| | |
| | |
| | |
| | |
| | |
Advertisement
October 08, 2008


Ekta Kapoor's Kahaani Ghar Ghar Kii will finally down its curtains this week, after a successful eight-year run on television. The show, which brought its protagonist Sakshi Tanwar [Images] instant fame and made her character Parvati a part of our lives, has been one of the longest shows on TV.

Kahaani Ghar Ghar Ki had everything that a family audience was looking for -- tradition, values and family bonding, as well as some masala in the form of vamps (Mita Vashiht's Trishna and Achint Kaur's Pallavi).

In keeping with the festive season of Dusshera, on October 9 the triumph of good over evil, Star Plus will showcase the final episode where we will see the Agarwal household striving for unity for the first time.

Sakshi talks to Rajul Hegde about the show's long innings, and her emotions.

What was going on in your mind on the last day of shooting for this soap?

It's hard to explain. We have completed a journey of eight years. It is a great achievement for any show to be a part of people's routine. It feels a bit incomplete and hollow now. But it was a wonderful journey that is coming to a beautiful end.

We were celebrating Diwali on the last day, and co-incidentally the show started during Diwali eight years ago. My first scene had me making a rangoli. Whatever we did eight years ago is being repeated today.

Any experience that you would like to share?

This is something I have never shared with the media before. It was a very funny incident and everytime we discussed it at home, it had us in splits. My sister-in-law was pregnant for the second time and around 9:30 pm, she started having labour pains. She told my mother to take her to the hospital but my mother did not realise the gravity of the situation and asked my sister-in-law if she could wait after Kahaani was over! Hearing this, my father got really angry and told my mother that one can watch the repeat telecast of the show.

Would you like to change your Parvati image?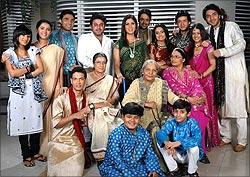 Eight years ago, I didn't even know I would do this role. God has been extremely kind to me and I think I have got a good public image. It's better to have a good image than none at all. It feels nice to meet people, who always have good things to say about you. I can't say anything about the future.
Any particular emotional scene you would like to share with us?
This show was about emotions. Out of 1500 episodes, I was there in almost every one, so it would be very difficult to pick just one.
Any words for our readers?
I want to thank all of our readers for their unconditional love. I would also ask forgiveness if we have hurt you in any way. 
What next?
I really have no idea.