Home > India > Movies > Interviews


Discuss |
Email |
Print | Get latest news on your desktop

The Rediff Interview / Arjun Rampal

'I am here to find the rock star of Nach Baliye'

October 06, 2008


| | |
| --- | --- |
| Arjun Rampal | |
| | |
| | |
| | |
| | |
| | |
| | |
After creating waves with his latest film Rock On!!, Arjun Rampal [Images] moves on to television, as a judge in the fourth season of Star Plus' popular celebrity dance show Nach Baliye. He talks to Rajul Hegde about his new role, and much more.
What brings you to television?


I think television is a great medium to interact with viewers across India. Another reason is that my production company, called Chasing Ganesha, is planning to make shows for television. This show will help me to understand the medium closely. I am trying to experiment by working on television.
What kind of shows are you planning to produce?

Television and movies are two different mediums. In television, we are looking at cutting edge entertainment. It could be a reality or a fictional show. It is too early to talk about it.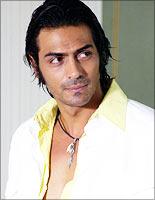 What will be your criteria to judge the show?
The main criteria will be how the contestant's growth takes place through the season. I will judge them on the basis of their chemistry and whether they're enjoying dancing or not. Sometimes even nervousness or awkwardness can be charming. These things appeal to me because I look for real people. I am here to find the rock star of Nach Baliye [smiles].
Many a times, judges get angry due to the SMS voting in reality shows.
This is a very popular show and I believe the viewer should be the ultimate judge. As the critics give ratings to our film, likewise even we would be rating the participants. But the final verdict rests with the viewers.


Have you been offered any other reality show before this show?


Yes, I was offered the first season of Bigg Boss, which I rejected.
How would you rate yourself as a dancer?
I am pretty good on the dance floor and love free style dancing. When I first started doing films, I had to learn dance. Farah Khan [Images] was my first choreographer.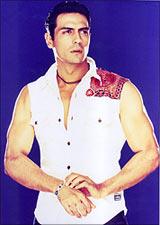 Who is the best dancer in Bollywood?


Hritik Roshan. I believe he even stands out on the international platform. And if we talk about actresses, it would be Aishwarya Rai [Images], Madhuri Dixit [Images] and Sridevi [Images].

Did Farah Khan convince you to judge this show?
Farah just conveyed to me that Star Plus want me to be a part of the show. As there were no clash of dates and this is for a short period, I agreed. I have watched this show and it has truly entertained me.
What do you love watching on television?
I like to watch Discovery Channel.  I have watched Bigg Boss but it is really not my cup of tea.
What is in pipeline?
EMI, Rajneethi and Fox with Sunny Deol.
Email |
Print | Get latest news on your desktop