Home > India > Movies > Reviews


Discuss |
Email |
Print | Get latest news on your desktop

Drona falls short

Sukanya Verma | October 02, 2008 10:04 IST


| | |
| --- | --- |
| Abhishek Bachchan in Drona | |
| | |
| | |
| | |
| | |
| | |
| | |
Creating a fantasy is like owning a box of colored crayons, some clean sheets of paper and, then, letting go.  All it asks for is an untied, unpredictable and adventurous imagination.
Goldie Behl's Drona [Images] tries its first baby steps in this direction. Even though he is visibly inspired by various sources and promptly botches up at several places, his 'good versus evil' story is essentially Amar Chitra Kathaish in tone and texture.
It opens articulately (writer Jaideep Sarkar [Images]) enough with an illustrated account of Drona's clan and history -- a legacy of warriors guarding the secret of immortality against the evil Asuras from time immemorial. Unlike Phantom, however, our newest inheritor isn't aware of his powerful lineage or capabilities. That's not surprising considering no superhero story is complete without the whole realisation rigmarole.
That is precisely why, somewhere in the cobblestone streets of Prague, we are acquainted to a modern-day mix of Cinderella and Harry Potter [Images], harassed by his adopted family of a garrulous, Punjabi-spewing mommy (Navneet Nishan) and good-for-nothing brother, praying for relief and release.
With just a bunch of enchanted blue rose petals for company, Abhishek Bachchan [Images] as Aditya, in layers of clothing, a boring beanie and a flourishing beard, plays the boy-next-door with puzzlement and fatigue.  
To add excitement to his life and Behl's story, Priyanka Chopra [Images] makes a whistle-inducing entry in a bright yellow Alfa Romeo to timely rescue Aditya from his biggest enemy, Riz Raizada (Kay Kay Menon), a wicked asura in the garb of a magician. Chopra is Sonia, a spirited, fearless bodyguard raised with single-minded devotion to serve the line of Dronas in an outrageous wardrobe of brocade vests and leather bandana.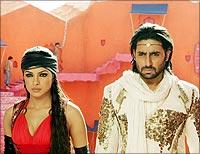 Next, we zoom into the sepia-toned grandeur of Bikaner, wherein Queen Jayati (a smooth sailing Jaya Bachchan in an indifferent cameo) convinces Aditya about his royal heritage with the mere hum of a signature lullaby (a lingering composition by Dhruv Ghanekar). Considering the speed at which the emotional niceties between the long estranged mother-son duo are wrapped up, there isn't any time to feel sympathetic or sorry for these characters.
What follows next is an unkind demonstration of Riz's powers, the metamorphosis of Aditya to Drona (read Frodo to Aragon), a blooming romance-on-the-quest between Big D and Lady Samurai, some nifty combat sequences against the stunning dunes of Namibia amidst a series of amateurish visual effects which connect them through.
At this point, Drona takes a severe beating. The VFX, supervised by David Bush is too explicitly tacky to overlook. What's the point of spending so much money for substandard results? Those million flying rose petals look completely fake. Ditto for the brownish gray ominous curves in the sky, the ins and out of Riz's illuminated castle or the massive maze of electric currents. Barring the scene with Drona on a horseback atop a moving train, the excessive computer graphics are almost always noticeable.
The art design, especially of the illusionary town Raazpur, leaves a lot to be desired. A subject like this is a playground for imagination. Unfortunately, Drona, despite its strong desire to entertain, is a victim of mediocre production values.
Technically again, the film could have easily done without Sameer Arya's oddly composed frames, which chop off Priyanka's chin whilst retaining additional space above Abhishek's head and overdo the close-ups to the extent of smudging the character's face. Although his grim, sinister red lighting and angles of Kay Kay's menacing expressions adds edginess to his already out-of-control temperament.
The actor is assigned one of the truly gruesome scenes in the movie. Like the one where he has a disturbing conversation with his mucous-coated naked clone is definitely not for the faint-hearted. Unfortunately, he essays the maniacal Riz in the same caricaturish vein Naseeruddin Shah [Images] approached his role, of a scheming minister, in Rajkumar. Come to think of it, the usually over-the-top Kader Khan does a swell job of playing Mantrik, the cunning sorcerer in Pataal Bhairavi, in which he is terrifying and amusing at once.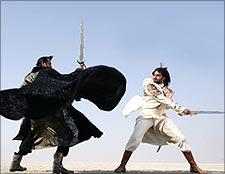 As the mythical messiah, Bachchan Jr initially struggles to look kinetic in a heavy cream 'n' zardozi costume, but makes up for the lack of physical dynamism with his brand of intensity and gravity. Even so, the hardhearted close-ups force you to make uncomfortable contact with the dark circles under his eyes, which go against the imagery of a superhero.
Although, it isn't a performance-oriented movie and none of the characters have any real back story or depth, Priyanka Chopra truly impresses with her convincing action heroine skills. Even if it's strictly make-believe, the thickly-kohl eyed actress looks dangerously tough and hits audibly hard.
Considering its fantastical theme, Drona is officially escapist and hence isn't obligated to broadcast logic beyond conveying 'good wins over evil' and 'conquer your fear by facing it' message. This is why you have to excuse Priyanka breaking into a sexy jig, seconds after she saves Abhishek from a nearly fatal attack at the hands of half a dozen desi Nazguls!
There's a lot of inspired wizardry here. Be it the hooded ring wraiths, white wizard with a warning, super magical horse or Elrond's motivational words 'Become who you were born to be' from The Lord of the Rings Trilogy, a Darth Maul like demon in Raazpur or sand-bodies from The Mummy [Images], Drona borrows a lot of popular references from Hollywood fantasies.
On the whole, Goldie Behl's attempt to keep it interesting is conspicuous even if not brilliantly executed. And while Drona falls short of being an irresistible experience, it sure had the makings of one.
Rediff Rating:

Want to see this movie? Check out Rediff Movie Tickets!

Email |
Print | Get latest news on your desktop