Home > India > Movies > Reviews


Discuss |
Email |
Print | Get latest news on your desktop

Poo is poetic

Pavithra Srinivasan | November 28, 2008 11:03 IST


| | |
| --- | --- |
| A scene from Poo. | |
| | |
| | |
| | |
| | |
| | |
| | |
Adaptations are always tricky. One step back and you're left with sentimental idiocy that will wreck the originality of the story; one step forward and you end up with characters that are completely out of recognition. Striking a balance is something creators are likely to mess up -- but thankfully, that hasn't happened with Moserbaer and Nesagee Cinemas' Poo (Flower), an adaptation of Tamil writer Tamilselvan's story, Veyilodu Poi, directed by Sasi.
You wait with trepidation as the title-cards appear, the names scrawled in a child's writing, and the beginning itself, is pleasantly intriguing.
Mariyammal, alias Mari (Parvathi, girl from Trivandrum introduced to Tamil) is a sprightly, typically rural girl from a village somewhere in the Sivakasi region, living in wedded bliss with her husband, Karuppiah. Life blooms for Mari, as she helps her husband run a tiny provisions store, dressed in the simplest of cotton saris, hair heavily oiled and pressed flat against her head.
Karuppiah is the kind of husband any girl would wish for: he showers her with love, flutters like a headless chicken if she's hurt and is generally so very loving that life is brimming with happiness. On a festival visit to her mother's home -- a small mud hut -- Mari resolves to visit two trees that signify herself -- and her lost love, Thangarasu (Shrikanth), leaving behind a distraught mother.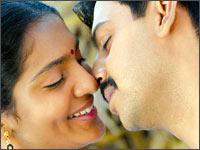 As the story moves into flashback mode, you're given refreshing glimpses of a life you rarely see; the young girl, full of love and hopes who works in a fireworks factory, her face liberally covered in grime; her friend Cheeni, a wonderful character that is extremely sympathetic -- and stuffs herself with snacks all the time, even at the astrologer's office; Thangarasu's father, the Penakkarar (literally, the Pen-Man), who flaunts to the whole village his ability to read and write; the permanently persecuted teashop owner, its quite a list -- but what a refreshing portrayal of secondary characters!
The story itself is fairly simple: of the love that comes at a very young age and how it changes people and relationships as the protagonists grow older.
What makes it different is Sasi's clever handling of the screenplay. At no point does it bore you to tears, or take you on cliched rides; it could well have, as such stories are often mauled in the name of creativity. Why, Sasi even manages the comedy tracks extremely well without the mandatory comedy actor -- and that's saying something, indeed.
Mari has always dreamt of marrying Thangarasu, her uncle's son, starting from her attire to her education, even, mirrors her ultimate 'ambition.' She mixes up his cell-phone numbers (the goat-herd interlude here is hilarious), lies in wait for him whenever he comes home from his engineering studies in Chennai, and watches, dumbstruck, his easy friendship with the more modern Uthra.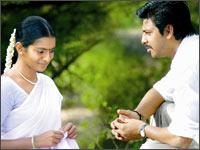 In the meantime, a parallel track shows the village's bigwig, a mill-owner whose son is a no-good drunkard, often brought home by Thangarasu's father, the Penakkaarar. Incidentally, the Pen-man also cherishes a very deep ambition to become moneyed -- though not in a villainous fashion. In fact, that's one of the merits of the film -- there are no artificial characters, no screaming villains who rape and pillage; the settings remind of yesteryear Bharathiraja and Bhagyaraj films, where the characters took centre-stage.
The credits may state Srikanth as the hero but as he himself has rightly observed, it's almost entirely Parvathi's film. As Mariyammal, an innately joyous girl who undergoes life's trials to become a stronger woman -- she's superb. Her looks, make-up and costumes are excellent, as is the art direction by K Veerasamar -- be it the fireworks factory or mud huts, it brings the scene to life.
Srikanth himself, has mercifully been used well -- he fulfills the smaller role of an ordinary village boy who doesn't really fit into a city reasonably well. But it's the secondary characters who add such spice to the movie.
S S Kumaran, making his musical debut, has done a creditable job -- his Aavaram Poo is a nice blend of angst and romance, while Choo Choo Mari is a glorious riot of celebration. His background score needs work though -- lifted from either Braveheart or Memoirs of a Geisha, its too loud. P G Muthiah's cinematography and Madhan Gunadeva's editing fit the bill.
Poo might move slowly at places and not have a crackling climax but the ending fits in very well with the general tone of the story. As far as screenplays and performances go, Sasi has a winner on his hands. Few rural sagas are this refreshing or poetic.
Rediff Rating:

Want to see this movie? Check out Rediff Movie Tickets!

Email |
Print | Get latest news on your desktop