Every city has its own charm and character. If Mumbai has its own lingo, so do other Indian cities.
Capturing this beautifully is director Dibakar Banerjee's second film (after the well-reviewed Khosla Ka Ghosla [Images]) Oye Lucky! Lucky Oye!. The city here is Delhi [Images], which Banerjee has presented as you have never seen before -- a hotch potch of people drawn from all stratas of the society. We see homes located in different localities like Delhi 6, Karol Bagh, Lajppat Nagar, Rohini and the plush South Delhi pockets.
We see narrow lanes, wires hanging from electric poles, big kothis (barsatis), we see Jats, Sikhs, Punjabis, Haryanvis, CBI, and hear the heavy North Indian accent that takes you to another world. This exquisite attention to detail makes us feel as if we are living the life of Lucky (Abhay Deol), the thief and main protagonist in the movie.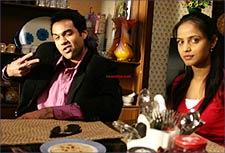 Born to a lower middle class Sikh family, Lucky is deprived of many things in life. His father has taken another woman and is not interested in supporting his family, except providing them with shelter.
So a young Lucky (brilliantly played by Manjot Singh) knows that the wealthy way of life he is hankering for will remain a distant dream unless he does something about it. Thus, his introduction to the life of crime begins.
His modus operandi is cheating people, a task he excels in, and he never feels that he is doing anything wrong. One of the best scenes in the film is when he robs a well-known crime reporter Awasthi, who runs a television programme aptly titled Criminal (taking a dig on the serial, Sansani, broadcast on Star News).
Download Ringtones and Wallpapers
Lucky's life of crime continues unabated until one day, he falls in love with a simple college girl (Neetu Chandra). Completely smitten, he decides to give up crime and become a gentleman. But that, he learns, is not that easy.
Paresh Rawal, in his triple roles as Lucky's father, mentor and a veterinary doctor, performs with ease. The logic, however, is not understood because all the three characters have nothing to do with one another in the film.
The film only fails in the music department, by Sneha Khanwalkar. The dhols and drums get too loud from time to time, and get very annoying. If you can overlook this minor discomfort, go for it!
Rediff Rating: