| | |
| --- | --- |
| A scene from Slumdog Millionaire. | |
| | |
| | |
| | |
| | |
| | |
| | |
November 17, 2008 14:33 IST
Last Updated: November 17, 2008 15:12 IST


All eyes it seems are on the triumphant American release of Quantum of Solace which has hijacked $70 million in just three days, far exceeding the Hollywood expectations. But discerning eyes will also see the news about the under dog movie Slumdog Millionaire not only getting the some of the best reviews in recent years but also doing brisk business in arthouses.

The Danny Boyle directed film, focusing on three slum children in Mumbai and their tryst with fate as grown-ups, grossed a highly promising $420,000 in just five days in 10 theatres in North American cities. Playing in New York, DC, San Francisco, Chicago, Los Angeles and Toronto, it enjoyed several sold out shows on Saturday. It is adding 22 screens next Friday as it expands to more cities including Boston, Dallas, Denver, Minneapolis, and Phoenix. And  by the first week of December, as the awards and years-best films season is approaching, it could be on 500 screens. 

'Four stars simply aren't enough for Danny Boyle's Slumdog Millionaire, which just may be the most entertaining movie I've ever labled a masterpiece in these pages,' wrote Lou Lumnick in The New York Post. The headline for the piece read: SLUMDERFUL!

Boyle, known for the gritty Trainspotting and the magical fable Millions, has never made anything like Slumdog in his two decades in movies. And reviewers were quick to point out this important factor.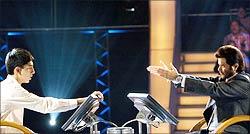 THIS 'MILLIONAIRE' IS WELL WORTH ITS WEIGHT IN GOLD.
Giving the film four stars out of four, Lumnick added: 'Great movies transport the audience, and this one left me floating on air after two viewings. I can't wait to see it again -- and share it with others.'
Made for just about $15 million -- peanuts compared to an average cost of $80 million for a Hollywood film -- Slumdog will start barking in European theatres starting in January.
Though the film is running only in a handful of cities, the reviews in the national publications such as USA Today has raised its profile across the country.
Claudia Puig too gave it four stars out of a max four in USA Today.
'The exhilarating and sweeping Slumdog Millionaire is one in a million,' she wrote. 'Director Danny Boyle's riveting and kaleidoscopic tale, based on Vikas Swarup's debut novel Q and A, is exquisitely adapted to the screen by Simon Beaufoy. A Dickensian story, Slumdog is both universal and quintessentially Indian. Some of the film is in Hindi, which heightens a sense of authenticity, as does the musical score (A R Rahman).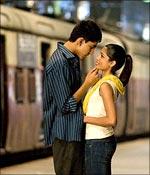 The movie, starring Anil Kapoor [Images] as the devious quiz show host, Dev Patel and Freida Pinto as the lovers separated in their younger years, and Irrfan Khan [Images] as the sadistic police Inspector has India's Loveleen Tandan as the co-director.
The Washington Post hailed the film as a 'a modern-day rags-to-rajah fable.'
'It won the audience award at the Toronto International Film Festival earlier this year,' the newspaper wrote, 'and it's easy to see why. With its timely setting of a swiftly globalizing India and, more specifically, the country's own version of the Who Wants to be a Millionaire TV show, Slumdog Millionaire plays like Charles Dickens for the 21st century.'
It added: 'But in this particular saga, the coal dust of Victorian England [Images] has been replaced by the Tata fumes and computer-screen glow that envelop a country in the throes of profound economic and cultural change.'
'Boyle borrows heavily from Bollywood, and every dazzling frame seems ready to overflow -- with people, emotions and a riot of color,' Elizabeth Weitzman, wrote in Daily News. 'The romance is shamelessly soap-operatic, and the mood swings wildly from despair to joy. But when Boyle pulls back to show us his grand vision, it's a stunner. And everything suddenly falls into place, as if this uncommonly daring film was fated to work from the very start.'
Even the tough critic Manohla Dargis of The New York Times surrendered to the film..
Calling it bright, cheery, hard-to-resist movie, she wrote: 'It's an undeniably attractive package, a seamless mixture of thrills and tears, armchair tourism (the Taj Mahal [Images] makes a guest appearance during a sprightly interlude) and crackerjack professionalism. Both the reliably great Irrfan Khan (A Mighty Heart), as a sadistic detective, and the Bollywood star Anil Kapoor, as the preening game-show host, run circles around the young Mr Patel, an agreeable enough if vague centerpiece to all this coordinated, insistently happy chaos.
At the Toronto International Film Festival in early September, Roger Ebert of Chicago Sun-Times and a widely syndicated reviewer was among the very first to write that Slumdog could be a serious contender for Oscar nominations.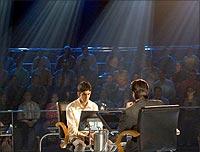 Reviewing the film recently, he gave it a maximum four stars. It 'hits the ground running,' wrote the critic who has championed many films by Indian directors including Mira Nair and Deepa Mehta. 'This is a breathless, exciting story, heartbreaking and exhilarating at the same time, about a Mumbai orphan who rises from rags to riches on the strength of his lively intelligence. The film's universal appeal will present the real India to millions of moviegoers for the first time.'
What is the real India according to Ebert, the readers would surely want to know. There is the India of extreme poverty, he wrote. 'The India of Mother Teresa still exists. Because it is side-by-side with the new India, it is easily seen. People living in the streets. A woman crawling from a cardboard box,' he explained. 'Men bathing at a fire hydrant. Men relieving themselves by the roadside. You stand on one side of the Hooghly River, a branch of the Ganges [Images] that runs through Kolkata, and your friend tells you, "On the other bank millions of people live without a single sewer line."'

'On the other hand is the world's largest middle class, mostly lower-middle, but all the more admirable,' he continued 'Slumdog Millionaire bridges these two Indias by cutting between a world of poverty and the Indian version of  Who Wants to be a Millionaire.'
Come Friday, many more reviews will follow and the film could cross the $1 million barrier, and settle down for a long, sleeper-hit run.