| | |
| --- | --- |
| Monica Bedi | |
| | |
| | |
| | |
| | |
| | |
| | |
November 17, 2008


Monica Bedi's second turn in Bigg Boss was quite spicy, thanks to her romance with Rahul Mahajan [Images]. Payal Rohatgi [Images], Rahul's alleged girlfriend, provided a love triangle as well.

Monica spoke to Rajul Hegde about her experience, the fights in the house, and her eviction last week:

How different was Bigg Boss when you re-entered the show?

When I entered Bigg Boss for the first time, I had no clue about the show because I had not watched the first season. Everyone was new to me, and I was very nervous because of my past. So it took me time to open up. But the second time was like homecoming. Everyone welcomed me with open arms. The politics is natural when you are so close to winning the prize money.

Why did you go back to the house?

I was evicted after three weeks. I felt that was not enough time to clear my image. But after I came out, I got an amazing response. I got a house on rent in Malad [a Western suburb in Mumbai], and got television and film offers. I thought the wild card entry would add to that. The public voted for me in the wild card round, and that itself was a big achievement. I'm getting a good response from the people and am loving it.  

But you didn't get along with Diana Hayden [Images]. She even called you selfish for the poha incident.

That's a very petty incident. When you stay in a house where supply is limited, that is bound to happen. Diana was very possessive and madly in love with Ashutosh Kaushik. She would save everything for him. Not only poha, she would save cornflakes and milk for Ashu too. She was very protective about him. I understand this happens when you love someone.

We would get bored eating eggs only, so we had asked for poha. Eating eggs daily is not healthy. I think all of us housemates should go for a cholesterol check-up (laughs).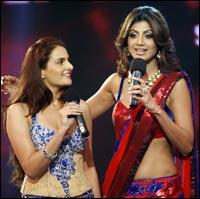 What was your equation with Payal Rohatgi?
I didn't have any problems with her. But she nominated the people she was close to.
Rahul Mahajan expressed his love for you on national television, and you didn't discourage him either.
When I went back to the house, everyone told me to be lively and friendly because it is a reality show. I know people want to watch masala so even I tried to do some acting (laughs).
Rahul is a special friend, nothing more than that. His feelings could be genuine but I really don't know whether I have time for love now. I am packed for the next four months and I really don't know how much I will be able to stay in touch with the housemates. I want to concentrate on work, nothing else.  
What if Rahul proposes to you?
Oh my god! I have a past and cannot afford to make another mistake in life. I will leave it to my parents to take a decision.
Have you completed writing your autobiography?
I am writing it. It will be ready in a couple of months. I have written everything with honesty.