| | |
| --- | --- |
| A scene from Dostana. | |
| | |
| | |
| | |
| | |
| | |
| | |
November 14, 2008 11:30 IST


It's just that when one of the most successful movie studios in the country makes a film with two mainstream actors pretending to be gay, you would like a little more than good-looking fun presented predictably on a plate. Not that there's anything wrong with that, of course.

Dostana [Images] is exactly as you'd expect from the trailers. Shilpa Shetty [Images] pops up wearing a bikini, Priyanka Chopra makes Neal'N'Nikki leftovers look very good indeed, and John Abraham's [Images] bottom plays a starring role. In between, there's a plot cobbled from I Now Pronounce You Chuck And Larry, and a surprisingly broad Jhoom Barabar Jhoom feel given to Abhishek Bachchan [Images], who inevitably does much better this time around.

Yet for all its potentially paisa-vasool assets, Tarun Mansukhani's debut film is a crucial blunder. Making an entire film out of Kal Ho Naa Ho's Kantaben joke was always going to be a stretch, and while the male stars earn applause by throwing themselves this heartily into a risky project, it ends up as a shamefully regressive film.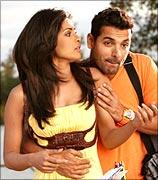 We in India haven't yet matured to sensitive, normalised portrayals of homosexuality, and this film continues to paint them as freaks of nature. John and Abhishek play a couple of decidedly homophobic straight men pretending to be gay, and every other gay character in the film is a complete, flamin' caricature. It isn't wrong to show a stereotypically effeminate man, of course, but to make absolutely no attempt to balance this is to damage an already-fragile mindset.
The problem then is that the film is genuinely entertaining, albeit very obvious, in a way that it is likely to be a smash hit and reach millions of people -- setting the gay rights movement in India back at least a decade. Sigh. Nobody expected a Brokeback Mountain, but a dollop or two of perspective tossed in the middle of all the item songs and bling wouldn't hurt now, would it?

There are a couple of deft moments, sure. Kirron Kher, playing Bachchan's mother, earnestly hams her way through a scene where she makes John cross the threshold of the house, like a new bride. The muscled actor does so gleefully, knowing how embarrassed Abhishek would be, after which Kher blesses the couple, and candidly admits she doesn't know which of them is bride and which is groom. It's a nice little candid aside on the unpreparedness of an older generation, on their need to label and their unfamiliarity with these newfangled sexual dynamics.
Speaking of sexual dynamics, there's a considerable amount on display here in terms of Priyanka Chopra's [Images] dresses. Not that we're complaining one bit. The actress looks screen-scorchingly hot, and while there is a skimpiness overkill, we're too busy staring to make an issue out of it. She looks refreshingly at ease after a series of overdone roles, and her on-screen enjoyment is natural and fun. And did I mention those legs? Lord.
Vote! Which Dostana babe is hotter?

Meanwhile, John Abraham is clearly at ease grooving to songs originally made iconic by his girlfriend. He's also evidently enjoying being the new Salman Khan [Images], showing off more chest than a Bigg Boss contestant and demonstrating a loathing for shirt buttons. Again, he too seems to be having a good time, and that's the best possible thing to happen for an on-screen bunch. He's much easier in front of the camera now, and he makes the flimsily written character rather likeable.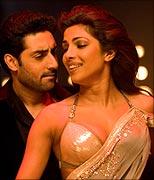 Abhishek is the pick of the actors, no doubt about it. Called on to play an over-the-top pink-loving straight man -- who seems far too interested in pretending to be gay -- Bachchan does a spot on job as he stays over the top and ends up being a pretty enjoyable buffoon. Clearly an actor who likes getting under the skin of his character, this is a role that calls for much self-deprecation and embarrassment, and Bachchan embraces them quite well.
The plot could have used at least a tad of work, though. While I admit that this film is better than Chuck And Larry -- which is rank unwatchable, so let's not pop open the bubbly just yet -- the plotholes are too massive, really. Two single guys in Miami [Images] decide to share a flat and pretend they're gay? What's the point of the stunning pad if you can't bring women over in the first place? And after agreeing to tell their flatmate Priyanka that they are gay, they spend all their time flapping their wrists in front of her and forget all their womanising ways?

Overall, it's an average piece of fluff -- but one of the most hideously insensitive things to come out of Bollywood in a long while. Boman Irani shouldn't have played the part he does, and Karan Johar [Images] shouldn't have let this film turn out the way it has.

This film is a joke; but the last thing we need is India thinking homosexuality's just another gag.

Rediff Rating: