November 11, 2008 14:34 IST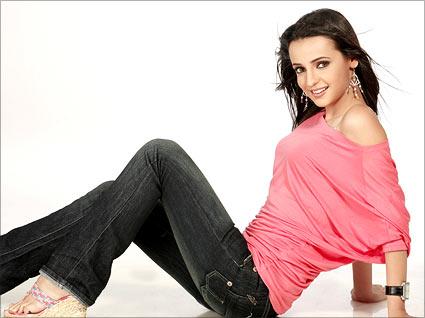 Born as a Mumbaikar, she grew up in the serene surroundings of Ooty, spending seven years in a boarding school there.
Then it was time to come back home. By the time she graduated from the famous Sydenham College, she had already decided that she wanted to make a career in modelling.
If you are still clueless as to who we are discussing, here's the list of brands she has endorsed till date: Lee (with Saif Ali Khan [Images]), Belmonte (with Shah Rukh Khan [Images]), Dabur [Get Quote] Honey (with Amitabh Bachchan [Images]), Lux (with Priyanka Chopra [Images]) and Pepsi (with Kareena Kapoor [Images]). Model-turned actress Sanaya Irani has done all this and more in her brief stint with the glamour industry.
A couple of years back, she also received critical acclaim for playing Kajol's [Images] friend in Fanaa [Images]. "It was by accident that I got that role. It was like a dream come true for me, since Aamir and Kajol are my favourite actors," remembers Sanaya.
Currently the pretty actress is busy playing the female lead in Star One's new show Mile Jab Hum Tum [Images]. This is her the third show on television, having already done serials Left Right Left and Radha Ki Betiyan Kuchh Kar Dikhayegi. "It was very tough for me initially, since I was not very comfortable with Hindi."
"My directors also helped me. In Left Right Left, the director helped me pronounce each word and then form the sentence for the dialogue. It was tough but I pulled it off. While I definitely cannot claim that I am an expert in Hindi, things are much better now," says Sanaya.
Her new show Mile Jab Hum Tum is a story of two sisters. "I am playing one of two sisters -- Gunjan. The story revolves around us two sisters who have come from a small town and face a number of challenges in Mumbai. It is a great experience for me," says Sanaya.
The actress does not have any plans of moving to the big screen right now. "If I get a good offer, I may take it up. But right now I would like to concentrate on the small screen and the serial I am doing," explains the pretty actress. Text:
Text: Srabanti Chakrabarti