Home > India > Movies > Reviews


Discuss |
Email |
Print | Get latest news on your desktop

Rab Ne Bana Di Jodi's music fails to excite

G P Singh | November 10, 2008 15:54 IST


| | |
| --- | --- |
| A scene from Rab Ne Bana Di Jodi. | |
| | |
| | |
| | |
| | |
| | |
| | |
Like most of what the big Bollywood studio does, the script of Yash Raj Films' Rab Ne Bana Do Jodi is classified material, with its top secret contents feeding rumour mills.
And if you believe what those mills have been churning out, the film, starring Shah Rukh Khan and newcomer Anushka Sharma, is about an older man who zings up his married life by undergoing a makeover and participating in a dance contest.
Maybe there is some truth in the leaked story line -- which Yash Raj has neither denied nor agreed to -- because the music seems to hark back to an older era of tabla and dholaks, but tries to blend in modern sounds.
While the concept sounds interesting and the execution is slick -- a given for any Bollywood film these days -- it fails to touch you, or excite you enough to get up and start dancing.
Salim-Sulaiman are two of the most underrated music makers in the business, and their previous soundtracks (Chak De!, Iqbal) bear testimony that the duo is not just about 'background scores'. But with Rab Ne Bana Di Jodi, they deliver a bunch of songs for which the most charitable adjective you can come up with is 'interesting' -- in bits.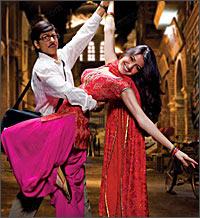 The first song, Tujhe Mein Rab Dikhta Hai, is sung by Roopkumar Rathod and can be classified as old-school Bollywood. It is reprised as the third-last song again, sung melodiously by Shreya Ghoshal, and it underlines that the music director duo really can treat ballads and slow songs right (remember Maula Mere from Chak De and Ashayein from Iqbal?). Probably the song of the album.
Haule Haule features Sukhwinder Singh and a peppy Indian percussion section underlined by some bumping bass lines and sophisticated keyboard chords. While there is nothing not to like, the song fails to rise above its limitations.
Dance Pe Chance is more of what we expect of Salim-Sulaiman, and its bhangra meets electronica has dance floor potential. That's about it.
Phir Milenge Chalte Chaltey, sung by Sonu Nigam [Images], has a collage of old Bollywood songs thrown into the mix, and while it is well put together, it doesn't really have too much repeat value. In the context of the movie, one suspects, it would make better sense. You can almost see SRK [Images] doing his take on some iconic songs of yesteryears, which is all that our 'tradition' seems to be about in the new millennium, when even an animated film about dogs has Bollywood heroes mimicked.
The album sign-off is Dancing Jodi again could give happy feet more reason to smile on dance floors or wedding sangeets. You can visualise the jodi dancing, yes, but repeat listen? Nah.
The bottom line: Good dance music is infectious -- it gets your feet twitching even if you don't want to. By that yardstick, Rab Ne Bana Di Jodi fails. 
Rediff Rating:

Want to see this movie? Check out Rediff Movie Tickets!

Email |
Print | Get latest news on your desktop