Home > India > Movies > Reviews


Discuss |
Email |
Print | Get latest news on your desktop

Skip this EMI

Syed Firdaus Ashraf | November 07, 2008 18:08 IST



Posters and promos don't make a film. And EMI just cemented this fact. For example, the posters of EMI feature Sanjay Dutt [Images] -- a lot. But the film? Well, read on.   

 

Debutant director Saurabh Kabra's EMI begins with four characters -- a disc jockey (Arjun Rampal [Images]), his high maintenance girlfriend (Malaika Arora Khan), a working couple (Ashish Chaudhary-Neha Uberoi), a retired person (Kulbhushan Kharbanda) and a widow (Urmila Matondkar [Images]).

 

Now what binds all these people together are loans that they have taken from All India Bank, which they haven't repaid yet. So for 45 minutes, we are introduced to these people and their money troubles. Still no sign of the so-called main protagonist Sattarbhai (Sanjay Dutt). So you sit through movie which fails to make much sense.

Sample this: How can these middle-class people repay their loans when they have no proper source of income? Agreed, banks can give loans to everyone and anyone (pre-US economic recession days), but still, these people who apply for these loans do know that they have to calculate how they will repay them, right? They just don't go on adding their loan liabilities until and unless they are sure of their respective repayment capacities.

 

The worse part of the film is the Urmila track. Though she knows her husband committed suicide, she still wants the police to lodge an FIR of murder as that would make her eligible for the Rs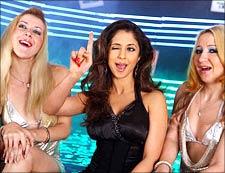 2 crore insurance money.

 

When she fails with the police, she goes to a goon in the so-called downtown area of Bhendi Bazaar and strikes a deal with him. The deal? He will prove to the police that her husband was indeed murdered! The deal doesn't come cheap, though. To pay the goon, the widow takes 

a personal loan of Rs 10 lakh. Now, how can a widow without any means of income or assets

be eligible for loan of Rs 10 lakh?

 

By the time Sattarbhai enters, you are left wondering whether you still want to watch this film. Still, for those who stayed back, 

Sanjay Dutt does his bit as the head of a loan recovery agency.

 

He roams around with a bunch of cronies, one of them named Mumbai Central, (Snehal Dabi known for his role Chander in Satya [Images]) who are quite entertaining.

 

Dutt is equally entertaining. Watch him as he romances Urmila in the romantic song, Aankhon Hi Aankhon Mein. Not bad for an actor touching 50. Overall, though, this Sattarbhai is nowhere close to Munnabhai [Images].

 

The rest of the cast, except for Arjun, are all wasted.

 

You can afford to skip this EMI.

 

Rediff Rating:

Want to see this movie? Check out Rediff Movie Tickets!

Email |
Print | Get latest news on your desktop