| | |
| --- | --- |
| A scene from Ek Vivaah Aisa Bhi. | |
| | |
| | |
| | |
| | |
| | |
| | |
November 07, 2008 17:07 IST


After movies like Hum Aapke Hain Koun, Hum Saath Saath Hai and Vivah [Images], Rajshree Production Ltd brings us yet another wedding story by the name Ek Vivaah Aisa Bhi. As with the earlier movies, this too is full of messages about family values and responsibilities towards the family.

 

The movie starts with Anuj (Vishal Malhotra) getting married and his sister Chandini's (Eesha Koppikar) flashback on how she met and fell in love with her boyfriend Prem (Sonu Sood). She was supposed to get engaged to Prem when her father (Alok Nath) passed away, putting the whole responsibility of looking after the family (which also comprise of another sister Sandhya) on her slim shoulders.

 

Left with no choice but to take care of her siblings, Chandini puts her marriage and singing career on hold. She ekes a living by giving singing lessons. Prem, in the meantime patiently waits for Chandini.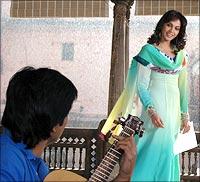 After 12 years of waiting endlessly, Anuj is finally ready to take responsibility of the household. However, he marries and leaves the house with his wife. Chandini resumes her singing lessons. By now Prem's mother is fed up with the long wait and request the lovers to go their separate ways. What happens next is better left to see on the screen.
Like all Rashree movies this film has three weddings and one engagement complete with half a dozen rites and rituals. There seems to be a lot of inconsistencies as well. For example, Prem is rich (he roams around in fancy cars and even owns a company), so he can easily help Chandini out. Instead he chose to wait while she struggles.
The first half is kind of slow (must be all those songs) though the pace picks up in the second half. Music here is not as catchy as in the previous Rashree outings.
Performance-wise, the entire cast has done a decent job. Not quite Vivah but romantics can still go for this one.
Rediff Rating: