| | |
| --- | --- |
| British writter Salman Rushdie shows his new book. (Photograph: Getty Images) | |
| | |
| | |
| | |
| | |
| | |
| | |
November 07, 2008 11:07 IST
Last Updated: November 07, 2008 19:20 IST


After having eluded half a dozen efforts over last two decades to make it into a film, Salman Rushdie's [Images] acclaimed novel Midnight's Children is getting a big push. Deepa Mehta will produce and direct the film from the script she will write with Rushdie. Shabana Azmi [Images] has confirmed she would do any role in the film. Offers of other key parts in the year 2010 project could go out soon to Nandita Das and Sima Biswas, who like Azmi have been featured in Mehta's films. 

Mehta and Rushdie announced the project in New York at an event organised a day after the annual MIAAC film festival kicked off November 5 in the city with the screening of Mehta's Heaven on Earth. Azmi who also attended the event, said she did not even ask Mehta what role she would play in the movie. "I just said, yes," she said.

Mehta would take up the Midnight's Children project only after the completion of her big budget film Komagata Maru. "And that suits me, too," Rushdie said. "I will be working on a sequel to my children's book Haroun and The Sea of Stories."

Rushdie said the idea for the project came up unexpectedly when he was having dinner with Mehta in Toronto a few months ago. He was in the city to promote his newest book The Enchantress of Florence.

Mehta then asked if the movie rights for Midnight's Children were still available. "Everything about this project happened unplanned," Rushdie said. "There was no system."

"I can't imagine a better person to do it," he added. Rushdie has known Mehta for over two decades.  

One of the reasons he is passionate about the film project is because of its endearing appeal the novel has, he said.

"It has absolutely refused to go away," he said of the Booker Prize winner which he began writing 31 years ago and had it published four years later.

It was declared the Booker of Bookers last year.

"What was interesting about the award was that it was not chosen by a jury," he said. "Readers voted, and later the award committee found out that two thirds of the voters were very, very young, they were under 30 and they still found the book relevant to their times."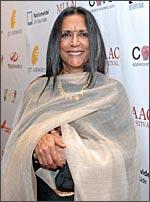 That discovery was "more important than the award," he said.
The novel is the fictional memoir of Saleem Sinai, one of 1001 children born at on August 15, 1947, at the moment of India's independence. The allegorical story is about  the inextricably linked fates of two children in a Bombay (now Mumbai) hospital is also the birth pangs of a new country, its communal tensions and internal decay, leading to the infamous Emergency rule of Indira Gandhi [Images].
Rushdie said of the various efforts to film the novel, some 'were comical and some serious.'
He spoke of one comical effort. Soon after Richard Attenborough's [Images] Gandhi had become a big hit in the early 1980s, one of its producers wanted to film Midnight's Children.
Rushdie did not reveal the name but he recalled she did not like the politics in the book and told him clearly that the movie would be better if the politics, especially in the last quarter of the book, is cut.
"I can say that the conversation did not go far," Rushdie revealed.
A reporter asked Rushdie how long would it take him to write the script. "A week," he said chuckling, and adding, "I have been practicing it for a long time."
"In fact, I have written the book three times," he said referring to the aborted  scripts for a TV film as well as a theatrical project.
But he would have to work anew on the new project. "It is a 600 page novel. So the challenge is to distill it. You cannot distill every scene in the book," he continued.  
The movie has to be "Deepa's vision," he added. "The film always belongs to the director.  She has to create the architecture for the film, tell me what she wants to be in it. "
Rushdie also said best movies result when the scriptwriter has a "close relationship with the director."
Mehta said in a statement: 'In literature there are only a handful of characters that remain indelible in my mind. On top of my list is Saleem, the protagonist of Salman Rushdie's brilliant novel Midnight's Children.'
She added: 'I am absolutely thrilled to have the opportunity to bring Saleem, his journey, and the incredible world he inhabits to the screen. To collaborate with Salman on the script, to have access to his humour and his sensibility is a process I am immensely looking forward to.'
Mehta had she reread the novel three years ago after a gap of nearly two decades and was amazed to find that it resonated not only with our times but also marveled at its humour and  the innocence of Saleem's character.
"The novel is particular to India," she said. "At the same time, it is also universal. It could be any country that goes through the pain India goes through."
"Things are continually moving and things keep changing," she continued. "Look at what happened in America just the other day." She was referring to the decisive victory Barack Obama [Images] won in the presidential election, becoming the first African American  in the White House.
Rushdie has had cameos in several films including the recent Helen Hunt [Images] film, Then She Found Me. Would he in his own project?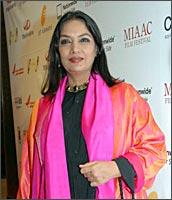 "There is a character called Ram Ram Seth, a fortuneteller who in one short paragraph prophesises the novel," he said. If Mehta would allow him to play the fortuneteller, he would be happy.
Rushdie said Shabana Azmi, who could play the grandmother's character in the film, would be a big asset. "It will be wonderful to have someone of her gifts." Mehta directed Azmi in Fire.
Another person he would welcome aboard, he said, would be Nandita Das, who was also seen in Fire and Earth. Rushdie introduced her directorial debut film Firaaq at the Telluride Film Festival in September.
"She has a very powerful presence," he asserted. "She is also very sensuous."
And he found in Telluride they had another connection. "I also discovered what a strange village India is," he said chuckling. "We discovered that Jatin Das, her father, was married to my cousin." He subsequently remarried.       
Mehta and Rushdie said they were not expecting any political problems concerning the film's shoot in India. Many years ago Mehta had to cancel the work on her film Water in the face of violent protests; later she shot it clandestinely in Sri Lanka [Images].
"The protests are water under the bridge," Rushdie said. "Our big worry is whether we will get easily proper locations for our film," he continued. "The story ends in the mid 1970s but it starts at the beginning of the century."
Photographs of Deepa Mehta and Shabana Azmi by Paresh Gandhi