First Look: Oye Lucky! Lucky Oye!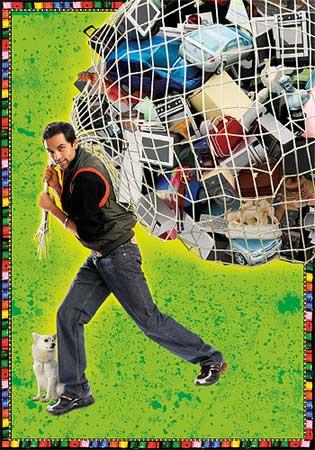 Abhay Deol has a penchant for off-beat roles in equally off-beat films (remember Manorama Six Feet Under, Ek Chalis Ki Last Local?).
This time around the actor is playing a thief Bunty alias Devendra who gave the Delhi [Images] Police sleepless nights in his latest film, Oye Lucky, Lucky Oye.
The film, which is based on the real-life story of a thief called Bunty, also stars Paresh Rawal [Images], who for the first time will play a triple role. Dibakar Banerjee (of Khosla Ka Ghosla [Images] fame) has directed the movie.
The real Bunty led a very colourful life. He ran such a smooth operation that even the police wondered how he managed to pull off jobs with such finesse. Nevertheless, he had 350 cases of robbery and forgery filed against him.
Bunty's fondness for the luxurious life introduced him to the life of crime. Interestingly, Bunty also wanted to be an actor and had come to Mumbai to try his luck, but failed.
To a question whether the film is based on Bunty's escapades, Dibakar Banerjee said, "It is partly true. I have taken some incidents of his life in my film as well as from others."
He however denied the fact that the film is completely based on the life of Bunty.
"Oye Lucky, Lucky Oye is not a film on Bunty. The film story is based on the lives of many people whom I have met in my life or read about them. It is just like Khosla Ka Ghosla's characters whom I met in my life," Dibakar added.
Text: Rediff Entertainment Bureau
Email |
Print | Get latest news on your desktop