| | |
| --- | --- |
| B R Chopra | |
| | |
| | |
| | |
| | |
| | |
| | |
November 05, 2008 16:19 IST


Substance was the hallmark of B R Chopra's films but the legendary filmmaker who passed away on Wednesday at the age of 94 always felt that the rise of money and stardom have vitiated the image of Indian cinema. The eminent producer-director was of the view that a film is not just about jugglery with money. He believed that a film addresses itself to the society and it is the duty of filmmakers to make healthy and wholesome films, preferably with good story and social significance.

Chopra practised what he preached. Whether it was adultery (Gumraah), the politics of rape (Insaaf Ka Tarazu), Muslim matrimony laws (Nikaah), rehabilitation of prostitutes (Sadhana), widow remarriage (Ek Hi Raasta), Chopra always had a sharp, clear and effective non-formula tale to tell. Baldev Raj Chopra gave great importance to story because he himself had started his career as a writer.

An MA in English literature, he would have continued to work as a film journalist with the Cine Herald had it not been the partition of India. Post Independence, he came to Mumbai and after a stint in production, made his first directorial venture with Afsana (1951). The story was about good and evil featuring twin brothers, both played by Ashok Kumar in a double role. Afsana was a success and Chopra's narrative cohesion was widely admired.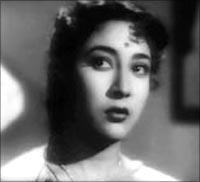 When Chopra entered the film business after coming from Lahore [Images], he had no experience of filmmaking and did not know how to contact stars. He wanted to sign Ashok Kumar for Afsana and had to use the good offices of J P Tiwari, Chairman of Bombay Talkies [Get Quote].
"You have no experience in filmmaking or direction and you expect me to hand over my career to you who has no knowledge of direction and at a time when I am on top?" asked Ashok Kumar when he met the aspiring filmmaker. But later the novice filmmaker impressed the film star with his script. Chopra's off beat Meena Kumari-starer Ek Hi Raasta (1956) saw him ascending in his career. Chopra's professional life entered its best phase with the Dilip Kumar-Vyjayantimala starer super hit movie Naya Daur (1957).
The film won tremendous pre-release publicity when its previous actress Madhubala refused to shoot at an outdoor location. This prompted Chopra to take the actress to court. Perhaps inspired by such real life legal battle, the courtroom became a steady fixture in his films the songless Kanoon, Waqt, Dastaan or Insaaf ka Taraazu. In 1959, B R gave younger brother Yash Chopra [Images], a chance to direct Dhool Ka Phool Thereafter he entrusted the direction of major productions like Waqt, Aadmi aur Insan to Yash.
When Yash left B R to start his own production company in the 70s, B R was shattered. "I was on sleeping pills for six month's because it destroyed my dreams of a joint family," he was quoted as saying. Besides, professional life was also not good with his films Dastaan (1972), Karm (1977) flopping. But his comedy flick Pati Patni Aur Woh (1978) put smile back on Chopra's face. Later films like Awaam and Burning Train failed at the box office but divine intervention came in the form of record breaking success of Mahabharat on small screen.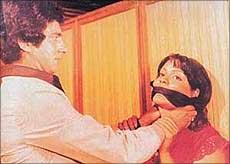 With the success of Insaaf ka Taraazu, Nikaah and Tawaif, Chopra reasserted the superiority of a director even in the era of megastars. It is to B R Chopra's credit that he always picked up socially relevant topics and yet catering to popular sentiment so as to convey his message to larger audience effectively. Chopra's magnum opus Naya Daur portrayed the conflict between rural tradition and modern technology. The protogenist of the film defeats a motor vehicle in a race. The film is a quintessentially Nehruvian film that fitted in nicely with the new initiatives in economic planning and rural community development in the first decade of Indian independence.
It hailed by critics as a powerful and vibrantly gripping film. "B R Films' Naya Daur is a distinctly successful combination of pertinent social education and moral and top rate entertainment," critics had said. The black and white film was recently re-released with coloured print but failed to capture the magic of the original. Many of Chopra's films were regarded as bold and ahead of their time. He dared to try a songless film with a hard- hitting suspense courtroom drama, Kanoon; showed a woman resuming her affair with her lover after marriage in Gumrah, a tale of marital infidelity. In Ittefaq (1969) his heroine kills her husband with the help of her lover and in Dhund (1973), a woman married to a paralytic takes on a lover.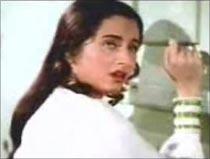 Gumrah needs special mention because it describes the Lakshmanrekha, the sacred threshold of a traditional family inside which lies the safety of a married woman and the consequences of what happens if she crosses the line and goes astray. In the film, the heroine (Mala Sinha) has to marry her sister's husband for sake of the children when the sister dies even though when she is involved with another person. As the woman caught between her husband and lover, otherwise having a tendency to work herself into hysterical, melodramatic histrionics of the highest order, responds with perhaps her career's most effective performance.
However ending of all these films was in keeping with the popular norms of the day. The sanctity and purity of marriage had to be preserved. Duty and sacrifice had to take preference to matters of the heart. So in Gumrah the woman finally chooses to live with her husband, while in Ittefaq the woman kills herself as repentance. Chopra continued to make films in the 1970s and 80s and tasted big success with Insaaf ka Taraazu (1980) and Nikaah (1982).
His son Ravi did try to keep the BR Banner going but the films directed by him barring a stray Aaj ki Awaaz (1984) have not done well at the box-office. However Ravi and the banner made a grand comeback when Baghban (2003), looking at the journey of an elderly couple (Amitabh Bachchan [Images] and Hema Malini [Images]) who are let down by their children. Today B R Films has diversified into Television after the the success of television serial Mahabarat in the 80s. B R Chopra has for long been the Hindi film industry's senior spokesman and was deservedly awarded the Dadasaheb Phalke Award for his contribution to Indian Cinema in 1999.
© Copyright 2008 PTI. All rights reserved. Republication or redistribution of PTI content, including by framing or similar means, is expressly prohibited without the prior written consent.