| | |
| --- | --- |
| A still from Woodstock Villa | |
| | |
| | |
| | |
| | |
| | |
| | |
Advertisement
May 30, 2008 18:09 IST


Sikander Kher's acting debut, Woodstock Villa, is quite a compelling film about changing morals in today's world.

Directed by Hansal Mehta, the plot takes different turns and twists till the end. The story starts when a businessman's wife is kidnapped for ransom. As the true nature of what is at stake for the captor as well as the victim unfolds, Woodstock Villa transforms from a suspense mystery into a chilling thriller.

Click here to download Woodstock Villa goodies!

The story shifts to Sikandar Kher's Sameer. The young lad, who leads a flashy lifestyle, needs money desperately. To add to his troubles, his landlord (Shakti Kapoor) is constantly on his tail for rent while Karimbhai (Gulshan Grover [Images]) demands his loan back. Samer needs money badly but he refuses to work for it.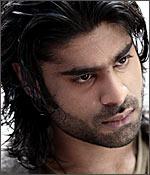 One day, Sameer meets Zara (Neha Uberoi) at a nightclub. A few days later, she lands up at his home with a plan to test whether her husband really loves her. She asks Sameer to kidnap her. The money tempts him into saying yes. They reach Woodstock Villa. He makes the ransom call to her husband Mr Kampani (Arbaaz Khan [Images]). And then comes the twist.
Unlike any other thriller, Woodstock Villa has no pleading eyes, tears or bound wrists. The film unfolds as a web of deceit and lies.
Woodstock Villa breaks the cliched murder mystery with every twist, and keeps you on the edge of the seat.
Singers Aryans make a fun entry with their song, Kyun. This 'item number' is picturised on Sanjay Dutt [Images], who is seen in a guest appearance. All the songs in the film are very good.
Sikandar has done fairly well in his debut film. He suits the image of a playboy, who constantly gets into trouble. Though the film has few dialogues, Sikander says his lines well. Certain scenes expose his amatuerish acting but the script -- with its many twists -- makes you overlook it.
Rediff Rating: