Advertisement
May 30, 2008 17:03 IST


K.Raghavendra Rao, along with music composer M.M. Keeravani and writer J.K. Bharavi, is back with yet another Telugu period film Pandurangadu, which is based on the story of Ranga (Pundarika), who eventually becomes one of the devotees of Panduranga (Krishna).

A classic with the same storyline but different title, Panduranga Mahatyam was made in 1957 with the thespian NTR in the lead.

Now in Raghavendra Rao's version, NTR's son Balakrishna dons the double roles of God and devotee. There are many songs and dances picturised on the mythological players in the film.

The story of the wayward Ranga (Balakrishna), who deserts his wife Lakshmi (Sneha) for a daasi Amrita (Tabu [Images]), is rather well-known. Ranga does not have much faith in Krishna though his parents have utmost faith in the Lord. The parents are blinded by their love for their son, who is indeed the apple of their eye.

Poisoned by Amrita's wily mother, Ranga throws his parents, sister, brother-in-law and wife out of the house. Soon enough he regrets his actions and realises that devotion and service to parents is crucial. He becomes one of Krishna's devotees when his wife is on her deathbed.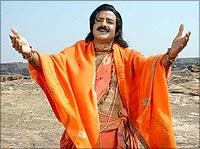 The narration of Pandurangadu follows a simple linear structure. Of course there is nothing complex about the story or the visuals. One is reminded of the mythological films of yesteryears particularly those of NTR. Even Panduranga Mahatyam was not such a popular classic though it had Ghantasala's immortal rendition of Krishna Mukunda Murari.
Some of the locales particularly the one of the temple on the reservoir bed is quite picturesque. Jayaram's camera work is good (the natural locations are shot well) Music by M.M. Keeravani has a melodic feel and is in sync with the theme of the film though it's not easy to remember the songs. 
Raghavendra Rao has ensured that there is enough emotion to keep the audience clued in. Known for his visual imagery and picturisation of the songs, Rao has shot a song (an imaginary one) between Balakrishna and Sneha in Bangkok. Bits of messages are woven in though the movie is not about sermons.
Balakrishna does justice to both the roles of God and Ranga. He shines in the climax of the movie. It's quite a task to step into NTR's shoes but his son has done pretty well, though one does miss NTR in the role of Krishna!
Tabu looks sensuous and glamorous (particularly in the songs) and essays her part well. Sneha plays the 'mad devotee' and wife to perfection. Well-known director K. Vishwanath plays the 'helpless' father of Ranga and the patriarch convincingly. The comedians Brahmanandam, Sunil, Ali make their mandatory appearance.
Pandurangadu offers a refreshing alternative to the current crop of movies.
Rediff Rating: