Home > India > Movies > Interviews

The Rediff Interview

'After Anbe Sivam, I became a hardcore Kamal fan'

Shobha Warrier | May 30, 2008


| | |
| --- | --- |
| Madhavan | |
| | |
| | |
| | |
| | |
| | |
| | |
It is no secret that Madhavan [Images] admires Kamal Haasan [Images] a lot. In fact, Madhavan is an unabashed fan of the star, who is ready with his upcoming Tamil film, Dasavathaaram.
After acting together in Anbe Sivam, Kamal made him the hero of Nala Damayanthi, which was produced by Rajkamal.
In this exclusive interview Madhavan cannot stop gushing about the star. Excerpts:
The first film I saw of Kamal Haasan was Nayagan. That was when I completely fell in love with the actor. After that, I started watching all his earlier films too, including films Moondram Pirai and 16 Vayathinile. Though I love all his films, my all time favourite is Sagara Sangamam.
After I started acting in television, people would call me for award functions. I accepted their invitations only to see Kamal Haasan in person. I would scream myself hoarse when he went to collect the awards. I was only a small-time actor then.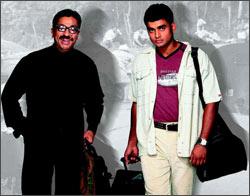 After television I moved to Tamil films where I acted in Mani Ratnam's Alai Paayuthe. That was when I met Kamal Sir for the first time in a hotel, where I was having dinner. He came over to me and said, 'Madhavan, I have seen some of your work and they were good.'  You could have knocked me down with a feather, so great was my shock.
Then he continued, 'I have something for you. We should catch up!'  I used to be a public speaker but, right at that moment I just couldn't open my mouth. I was dumbstruck. Anyway, that was how Anbe Sivam happened.
Before Anbe Sivam I was a mad fan of Kamal, but after the film, I became a hardcore Kamal fan! I don't think any actor in the world can do what he is doing.
Working in the film was like studying in a university. Every minute I shot with him was pregnant with information. He was like a father figure to me on the sets. I was awestruck all the time. I could act only because of the confidence he gave me. I didn't tell him that I was a huge fan of his; I know he could see that in my eyes. I was like a puppy!
What I learnt from him was that there is no shot in the world which is simple and can be taken lightly, and that you should give a hundred percent to every shot. It is amazing to see his dedication to each shot even after being in the industry for so many years. You see child-like enthusiasm, missionary zeal and extreme passion in each shot. It also changed me as an actor, the way I look at films and acting.
He also appreciates what others do. He patted me on the shoulder and hugged me after many shots. After the film was over, he called me and said, 'Maddy, I am very proud of you.'
After Anbe Sivam, I did Nala Damayanthi for his production house.
I must also tell you about his sense of humour. With Kamal Sir, every moment is hilarious.
I am really looking forward to watching Dasavatharam. In fact, I am expecting heaven and earth from the film. I am sure it will be very, very successful.