Home > India > Movies > Interviews

The Rediff Interview / Mashoor Kamal Amrohi

Kamal Amrohi's grandson makes his debut

May 29, 2008


| | |
| --- | --- |
| Mashoor Kamal Amrohi | |
| | |
| | |
| | |
| | |
| | |
| | |
Mashoor Kamal Amrohi will join the list of new faces, who will make their debuts in the Hindi film industry this year. The grandson of noted filmmaker and writer Kamal Amrohi, who made classics like Mahal and Pakeezah, is ready with his film, Hum Sey Hain Jahan.
What makes Mashoor different from the other newcomers in town is that he is an actor, director, writer and choreographer of his first film. The 26-year-old spoke to Patcy N about his filmi dreams and his famous grandfather.
I was 19 when I joined Sohail Khan [Images] on the film, Maine Dil Tujko Diya, as the fifth assistant director. I was a terrible because I wasn't dependable at all. It was probably because I had led a very sheltered life. I depended on my mother for everything.
When I entered the world of entertainment, I saw its politics. There was a lot of manipulation going on; something that I soon got acquainted with. I became very disillusioned, and after a couple of months, I stopped working without even informing anyone.
It was David Dhawan, who changed all that. I joined him when he was shooting for Mujhse Shaadi Karogi. I was 21 then. My perception about filmmaking changed after joining him. I started understanding and loving films. This was because with David Dhawan, there was no hierarchy. Everyone is a part of the direction team and everyone's opinion is welcome. That's why he has given 38 superhits.
He is my idol. The way he explains a scene and the way he handles difficult situations is superb. Even when he is dealing with the top actors of the industry, he doesn't lose his cool. I imbibed every little thing from him -- from conceptualising a shot to executing it.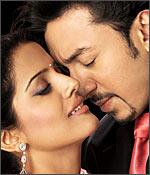 After the film was over, I had time on my hands. Very soon, I got bored. I spent time watching television and movies, and gained weight. My friends would discuss films with me. I liked the idea behind a certain film, and decided to write a script. That's how Hum Sey Hain Jahan was made.
I will not lie. My script is an inspiration. It is not an original idea. It is a straight copy of five films.
Hum Sey Hain Jahan is a romantic comedy with thrills, mystery and action. It is a masala movie. I changed the original title, Hum Lakh Chuppaye Pyaar Magar, because it was difficult to pronounce. The film is about of a guy, who is neither good nor bad. But he prefers shortcuts.
After the script was ready, I didn't want to give it to anyone else because I had visualised it while writing. I thought another director would not do justice to it. That's how I came to be the film's actor, scriptwriter, screenplay writer, dialogue writer as well as director. I have even choreographed three songs.
My heroine in the film is Vishaka Sen. She is an extremely talented newcomer, who had auditioned for Chak De! India. However, that didn't materialised. She came into the picture after [choreographer] Vaibhavi Merchant called up the casting directors of Yash Raj Films, as a favour.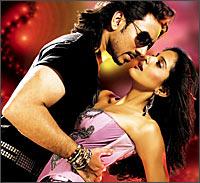 Though I had met her for just five days prior to the shooting, she bowled me over with her talent. She is very patient and dedicated. During a shoot in Singapore, she broke her toenail. It was  and there wasn't any doctor around. But she continued shooting. Another time, she shot with high fever.
The most expensive part of shooting were the underwater shots in Singapore. Lighting the place up was chaotic and tedious.
Then, there is a scene in the film where my friend runs over a child and I am supposed to save the child's life. However, I failed to reach the child in time and my friend actually hit the child. His ankle was hurt and his mother was livid with me. I could have been sued but nothing of that sort happened.
I am not scared of being compared to my grandfather, Kamal Amrohi. His style, sense and genre of filmmaking is completely different from mine. He was more knowledgeable and well read than me. He made classics but I prefer entertainers.
His favourite films were Sagar and Ben Hur. The whole family, including our relatives, would watch them with him when they came to visit.
As for future projects, I haven't signed anything yet. Director Mohit Suri and I had some plans but we had to shelve that project because my film's release was shifted from April to June. But we will work together someday.
I haven't made a bad film. I would not release my movie the same day, June 6, with Sarkar Raj, if it was bad.