Home > India > Movies > Columns

Why angry old men shouldn't blog

Raja Sen | May 26, 2008 14:11 IST

Surfing television this weekend, I stopped on an old Amitabh movie. It doesn't matter what it was called, but suffice it to say 'twas one of those where villain was in his red-carpeted lair when Bachchan, cool as a lanky cucumber, dropped in from an inexplicable trapdoor conveniently behind the baddie with a gun, and spoke his 'kyon be, kameene' lines, while tossing that trademark I'll-rescue-you smirk to the tied up mother/sister combo. The villain gestures to henchmen, Bachchan grits his teeth and raises that legendary laat, and ta-da.

I went back to my computer smiling at how cool an actor like Amitabh can make even absolute tripe momentarily look, and my e-mail inbox -- with scary serendipity -- pointed me to the Big B's blog. What has he done now, I wondered, concerned for the safety of his next e-target. It wasn't as bad, just an oops moment from the country's most-popular sexagenarian -- he'd blogged the transcript of an interview before the publication itself went to press, and they had resultantly scrapped the feature. Bachchan was apologising for his blunder, and that seemed more than endearing.

Yet Bachchan's blog is rarely easy to warm up to. Doubtless, the man is articulate and occasionally plain fascinating, especially when speaking tenderly of his famed father or just ruminating on nothing in particular, possibly inspired by the poetry of everyday life. The problem is that these feature just in passing, one or two paragraphs scattered above or below his posts, which are getting increasingly monotonous.

On any given day, a visit to the blog -- currently eclipsed by a huge Sarkar Raj poster -- takes you to a scanned newspaper clipping with a story about Bachchan, his family, or the blog itself. What with us being a country that carries movie gossip on page one, there is enough fodder, and Amitabh -- using Bob Dylan quotes to counter Bertolt Brecht -- counters these features head on, nitpicking like an obsessive nerd -- in more than slightly roundabout fashion, it must be said. It's frustrating to see just how much he actually cares, and alarming to think of him dealing with the hundreds of acres of nonsense newsprint on the subject individually. Surely he could do so much more with his time; surely Amitabh Bachchan [Images], for Shahenshah's sake, has better stuff to do with his time?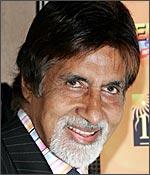 It doesn't seem like it. Bachchan blogs every single day, and the posts are usually long. And while much has already been said about his disconcerting digs at Anurag Basu and Khalid Mohammed, the rest of his letters-to-the-editor style posts against individual pieces aren't much better off. Frequently making straw man arguments while reacting, Amitabh seems determined to prove that he can do no wrong, and that any complaint against him is unjustified.
This includes, by the way, a typically catty Shobhaa De column that took an inevitably snide dig at Aishwarya Rai [Images] Bachchan's Cannes dressing, which was rebuked with a stentorian sermon explaining that L'Oreal executives surely took their work seriously. That, really, is the last straw, Mr B. After harping on and on about how his daughter-in-law is an independent achiever -- a statement none of us would disagree with -- why does he feel the need to defend her to the press? Ash has always minded the press -- and mined it -- very well on her own, and surely she doesn't need her father-in-law, capable as he is, to pick up the boxing gloves on her behalf?
On the other end, we have Aamir Khan [Images]. Aamir's blog is usually a treat, honestly, because he talks of the film process, genuinely encourages dialogue and demands feedback, and seems to be quite earnest about it all. Except, ahem, when a film is due for release. Khan was quite ruthless about Black just before the release of his Taare Zameen Par, and while opinion is always valid -- and I wouldn't disagree with anyone dissing Black -- it was indeed strange how he brought up an old film, and even stranger that his problem with Black was that of emotional manipulation. Hmm. Those in glass houses, Mr Khan?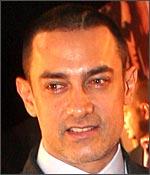 Recently, every Aamir fan I know has cringed with justifiable embarrassment at that whole 'Shahrukh the Dog' entry, made in ludicrously bad taste. It is a move that, even by mudslinging standards, goes too far -- much farther even than Shah Rukh Khan's [Images] own industry-slaughtering awardshow monologue, simply because SRK [Images] laughs at himself too. As he did at Aamir's post, not helping Aamir's case. The actor is in a league of his own, but he has certainly alienated some of his own fanbase, and it's hard to imagine just why Aamir would say something this -- there is no other word -- cheap.
I was initially glad to see our artists discover blogging. These are intelligent actors, and I thought we'd come up with something special and insightful, like Jeff Bridges who literally doodles his thoughts; or writer Neil Gaiman who invaluably keeps recommending the finest fiction you haven't heard of; or the entertainment bloggers at the wonderful Huffington Post -- George Clooney [Images], Harry Shearer, Jamie Lee Curtis [Images], et al -- who frequently choose to write about politics and history, not just film; or the meticulously detailed writings of the musician Moby; or the crusading and utterly real Barbra Streisand; or just the always, always, always hilarious Dave Barry.
Celebrity blogs can be utterly fantastic. Sure, a lot of them don't have the time -- or the self-imposed web-discipline -- to stick to blogging regularly at all, but some of them do take the time to be real. And we love them for it. The problem then seems to lie with our stars, who can't seem to talk about anything but themselves, and, more importantly, can't seem to do anything sans motive.
I'd absolutely love to read Amitabh going on about a particular Peter O Toole performance he's always loved or Aamir Khan making a long post about Roger Federer [Images]. Or either of them recommending me a book. But clearly that isn't the stuff the tabloids will pick up and use as their headlines; it isn't stuff that'll sell. Sigh.
Bachchan's blog is particularly depressing for all us fans who have grown up idolising the man, simply because reading it makes our infallibly mythic hero seem so petty. Early on in the blog's cycle, Bachchan reproduced a series of letters he had written to Bengali intellectuals -- Mrinal Sen, Sunil Gangopadhyay and the like -- who were apparently acerbic in an Outlook cover story about the Bachchans and superstition. Each individual letter contains the line 'I write this to you in absolute confidence. I would wish that you keep this communication private,' showing a respectful discretion -- towards Sen, for instance, who technically started Bachchan's career in film -- while also the fact that most of the letters, save a few phrases, contain the same paragraphs of text; they aren't really personal at all. Yet Bachchan now chooses to revoke his own request for privacy, with no regard for the recipients, and makes those communiques public. Why? Who on earth knows.
I'll wind up now, with my favourite bit from a book I otherwise didn't much like, Jessica Hines' Looking For The Big B [Images] -- a book which, appropriately enough, reads like a blog. Anyway, here's the clincher:
A couple of years ago I wanted to make a documentary about how hard it is to be a Bollywood film star. I told Amitabh, declaring that most stars of yesteryear are either dead or mad.
'You can't say that,' he exclaimed. 'You'd get killed!'
'But it's true, isn't it?' I insisted.
He stared out of the window.
'Isn't it?' I tried again.
He looked at me blankly. 'What?'
Enjoyed the column? Or want to tell me I have no business suggesting what bloggers should do? Or just boast that Rajnikanth [Images] doesn't even need to blog? Mail me with anything you please at senterfold@rediffmail.com. Seeya next week, people.