Bachchans promise an 'Unforgettable' tour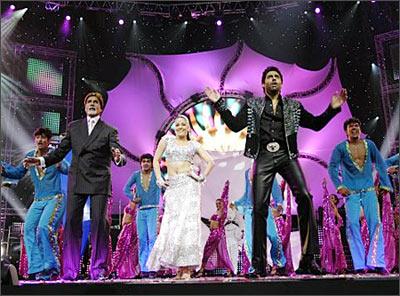 The Bachchans' Unforgettable Tour promises to live up to its name.
Come July 18, the Bachchans along with some of Bollywood's top stars will descend at the Roger's Center (formerly SkyDome) in Toronto, Canada [Images], to kick off the world tour.
The group headed by Amitabh Bachchan [Images], son Abhishek and daughter-in-law Aishwarya Rai [Images] Bachchan will be joined Akshay Kumar [Images], Ritesh Deshmukh [Images] and Preity Zinta [Images]. The stars will tour over 26 countries including England [Images], Australia, New Zealand [Images], Africa, Malaysia and the Middle East.
Produced by Wizcraft International Entertainment and organised by Ethnic Guru Inc, who termed the tour as 'a breathtaking night of song and dance', the tour will feature choreography by dancer Shiamak Davar and music by Vishal and Shekhar.
Announcing the details last year during a trip to Toronto, Abhishek, who was accompanied by wife Aishwarya, said the tour is the brainchild of his father. 'The idea behind the Unforgettable Tour is to entertain and as well as to connect with millions and millions of fans that we have across the globe that make us who we are,' he had said.
He added that the tour 'is not only meant to entertain but also to spread awareness about global warming.'
Text: Ajit Jain in Toronto