| | |
| --- | --- |
| Kareena Kapoor | |
| | |
| | |
| | |
| | |
| | |
| | |
Advertisement
May 19, 2008 15:34 IST
Last Updated: May 19, 2008 15:52 IST


It is 5:20 pm on a Monday evening when Kareena Kapoor [Images] walks in to Masala Bay at Taj Lands End.

The 28-year-old actor, immaculately dressed in a fitted, formal shirt and jeans, which she picked up barely 48 hours ago in London [Images], has returned to Mumbai by an early morning flight from Goa [Images], where she was shooting for Rohit Shetty's comic caper, Golmaal Returns.

"I'll be busy like this for the next year," she sighs, refusing to eat or drink anything, preferring to start the interview instead.

She'll be in Mumbai for 72 hours before heading out of the country on another shoot. In that brief interlude, she will spend whatever little time she can manage at home with her family and celebrate her recent victory: the Zee Cine Awards trophy in London for the best actor (female) for her role as Geet, the effervescent sardarni from bhatinda, in Jab We Met [Images].

"I've grabbed all the awards this year," she grins.

Film analyst Indu Mirani grudgingly accepts that in an industry with few female-centric roles, 'Geet's portrayal is indeed path-breaking.' Mirani, for the record, is no great fan of the actor.

That's something that won't go down too well with Salman Hasan, a 21-year-old student in Bangladesh who has an entire Facebook entry dedicated to Kareena. "I don't like reading bad stuff about her," he says bluntly. When we get in touch with him for this story, he concedes he likes everything about Kareena, "from her acting to her teeth", asking if we can arrange a meeting between them. But Salman will have to wait. Currently in Melbourne where she's shooting for Main Aur Mrs Khanna -- a film opposite Salman Khan [Images], based on a young NRI couple and their struggles to cope with marriage -- Kareena, among the highest paid female actors of our times, is on a tight schedule.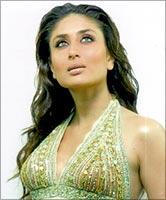 Charging around Rs 2.5-3.5 crore per film, trade analyst Komal Nahta says Kareena's forthcoming films -- including Rajkumar Hirani's Idiots with Aamir Khan [Images], Karan Johar's [Images] My Name Is Khan with Shah Rukh [Images], Yash Raj Films' animation project Roadside Romeo, and others -- are pegged at Rs 130 crore.
A top-notch director, on condition of anonymity, informs that Kareena's price has increased seven times since 2005 when she was paid around Rs 50 lakh for a film. According to Nahta, it's a price Kareena could quote easily for just a special appearance in a song-and-dance sequence today. In the Indian advertising industry, experts are fast attaching the tag of 'endorsement queen' to her name.
Shveta Brahma, Kareena's endorsement manager at Matrix Bay, says she's one of the very few actors who combines pedigree with performance. For each endorsement, Kareena quotes Rs 1.5-2 crores and with nine endorsements already in her kitty and four more planned before the year end (this includes an Airtel ad with beau Saif Ali Khan [Images] that she's reportedly signed for Rs 5 crores), she will comfortably earn another Rs 17 crore.
Collectively, the brands that she endorses have annual marketing campaigns to the tune of Rs 100 crore, at the very least, including Globus (Rs 20 crore), Emami (Rs 15 crore), Anne French (Rs 10-12 crore), Citizen watches (Rs 15 crore) and ITC Vivel (Rs 30 crore).
Harish Bijoor, brand specialist and CEO, Harish Bijoor Consults, goes as far to call hers the 'Mona Lisa face' that contributes vivaciousness and attractiveness to products. Anand Halve, founder of communications consultancy Chlorophyll, may feel that Katrina Kaif [Images] is fast catching up because brands haven't managed to leverage Kareena's potential, but most companies are quite content to associate with this fourth generation Kapoor scion.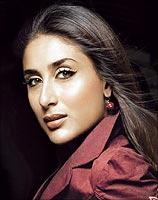 "We observed the way Kareena worked on her new onscreen persona to become popular with the youth," says Vinay Nadkarni, CEO, Globus Stores. "She's a style diva who adds to a brand's value." The apparel brand claims to have witnessed a 75 percent increase in sales since it signed her on last year.
On her part, Kareena, drumming perfectly manicured nails, smiles, "Growing up in a family where everyone is associated with films, I was never exposed to any other culture. I don't know any other life," she says, a 10-carat diamond ring dazzling on her ring finger. It's the same ring that has fuelled speculation in glossies and film magazines on her status. Engaged? Married? The actor isn't telling ('silence is golden,' she says), willing to discuss her body of work but not her personal life.
It certainly makes sense because films like Chameli, Dev, Omkara [Images], Jab We Met and Tashan, the latter's flop status notwithstanding, have helped her tremendously in expanding her fan base.
"A year ago, I wouldn't have asked for her autograph but now I'd love to be like her," grins Prakriti Singh, a young, post-Jab We Met Kareena fan. Kareena, she says, manages to create some sort of style impact in most of her films that can be easily replicated by teenagers. "Who could've thought that her look in Jab We Met (bright red nail polish, tees with Patiala salwars) could look so good?" she asks.
Her friend, Rashi Sahai, though a Kareena fan, cribs that she is disappointed by the actor's current size zero look. Her weight has been a subject of controversy but Kareena rolls her eyes when I mention that dreaded word: anorexia.
"Do I look anorexic, c'mon you tell me?" she shrills. I admit that she doesn't. Her dietician, Rujuta Diwekar, who meticulously altered Kareena's diet over a year to help her achieve the lean look, claims, "Kareena's diet is balanced and includes everything from brown rice and pasta to cheese and fresh veggies."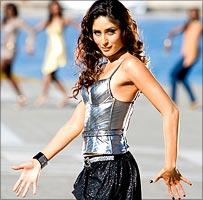 Diwekar plans Kapoor's diet (eight mini meals every day) at least a week in advance depending on which part of the world she will be in. "I'm vegetarian and can't possibly shoot with just a shred of cabbage in my stomach. It's physically impossible," retorts Kareena, saying that being associated with brands that have a mass appeal, she would not like to be responsible for young girls starving themselves to clone her look.
Directors like Subhash Ghai [Images] feel she deserves every bit of success that's coming her way now. His only grouse is that like her peers, Kareena is toeing every director's line just to succeed. "She's very intelligent but she needs to be careful," he warns.
Imtiaz Ali, director of Jab We Met, says he's yet to work with an easier actor. "In the film, especially the first half, Geet goes on a talkathon, but there's no sense of irritation. That's Kareena's charm, the more you see her, the more you like her," he says.
Saif Ali Khan, who worked with her in Omkara and Tashan, claims to have seen Kareena memorise a whole page of dialogue in under a minute. "Her choices of roles speaks volumes about the sort of work she's done. She's by far the most professional actor I have ever worked with," says Khan.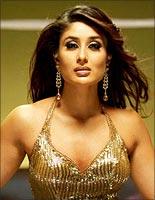 "I've always given a nod to roles which tell a story from a woman's point of view," Kareena agress. "Even the role of Pooja in Tashan, despite being glamorous, had an edgy character."
She may be the number one female actor in the industry with projects worth Rs 230 crores (that's including endorsements plus films) but Kareena could be a newbie the way she requests a copy of this article. "I like keeping cuttings," she admits shyly.
A group of guests whisper as she leaves, and heads turn. The fourth generation of the Kapoors is a mystery. ("No one can know any star too well," she grins towards the end of our interview) who is trying to do all that she can in the limited time that the industry offers its female actors.
"The audience tastes change every Friday," she tells me. For now, though, Kareena is the flavour of the weekend.
"I WAS BORN TO BE A STAR"
Everything from her love life to her screen persona has been grist for the mill. Here, Kareena Kapoor gets candid
On being born a Kapoor
I belong to a family that eats, breathes and drinks films. In all honesty, we weren't expected to study so that we could grow up to become doctors.
On her daily fitness regime
I do one hour of yoga every day. With that I do cardio exercises and eat good, wholesome vegetarian food.
On the media
It has been harsh, especially when writing about my personal life. The anorexia talk took it to another level altogether. They don't realise that despite not being the underdog, I've had to constantly deliver something different in each and every film.
On brands
I associate myself with brands which have mass appeal for the average middle-class consumer. I like the fact that I am reaching out to so many of my fans through these endorsements.
On reviving the RK banner
By next year we'll hopefully announce two films, with cousin Ranbir and me in different projects
On her acting style
I'm a puppet in directors' hands. I'm not a thinking actor or an actor to get involved. I do what my director asks me to do.
On the industry
Karisma tells me that I'm lucky to be an actor of the new millennium. I've learnt a lot from her mistakes, her onscreen fashion fiascos. But the industry is fast-paced with audiences' tastes changing every Friday.
Powered by