Home > India > Movies > Reviews

Sakhi: Good one-time watch

Daajiba Kondke | May 16, 2008 13:02 IST


| | |
| --- | --- |
| A still from Sakhi | |
| | |
| | |
| | |
| | |
| | |
| | |
Marathi film, Sakhi, has a lot of talent -- from writers Gautam Rajadhyksha and Yogesh Khadikar to director Sanjay Surkar -- and solid support from producers Lata Narvekar and Bharati Aachrekar. Yet, it fails to explore the emotional drama expected out of it.
If one tries to catch the meaning and feelings of this word, it tells the about relationship between two mature people, which goes beyond words. It's a special bond between a man and woman, not necessarily tied by a relationship.
We witness this special bond between Suryakant Jagdale (Ashok Saraf [Images], in a very different role), a widower in his 50s, who is forced into retirement and Nishi Surve (Sonali Kulkarni [Images]) a young woman caught in an unpleasant situation.
After losing his job, Suryakant returns to his village, Jatgaon. He wants to help the village youth but realises that his village has vastly changed, and his philanthropic ideas are met with indifferent responses. Dejected and disappointed, Surya is on the verge of a mid-life crisis, when Nishi enters his life.
Cheated by in-laws and rejected by her brothers, Nishi is trying to end her life when Surya rescues her and gives her shelter. After discovering her singing talent, he encourages her and gets her enrolled in a singing class. However, the conservative village frowns upon their relationship. Disgusted with this, Surya takes Nishi to Mumbai.
Nishi tries to pursue a career in music but faces rejection. That's when a young composer Ravi Desai (Subodh Bhave) spots her talent. With Ravi's help, Nishi becomes a popular singer.
Soon, Ravi starts playing an important part in Nishi's life and Surya feels sidetracked. Is Nishi only a Sakhi for Surya? What do the three of them really want? That forms the rest of the story.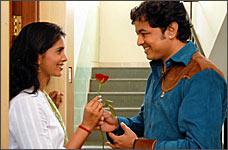 Director Sanjay Surkar tries to show the emotional entanglement well. But Gautam Rajadhyksha and Yogesh Khadikar (who wrote Kajol-starrer Bekhudi and Madhuri Dixit-Shah Rukh Khan-starrer Anjam) have not been able to capture the subtle layered nuances of Sakhi. The story depicts only one side of this bond, Surya's side. Nishi's emotions have not been focused on.
Several questions remain unanswered in the film, the most prominent one being, if Surya only wishes to help Nishi and expects nothing in return, why is he so unhappy and jealous when Ravi enters the picture?
Seasoned actors like Ashok Saraf and Sonali Kulkarni play their roles convincingly. Sanjay Pawar pens some good dialogues.
Sakhi is good for a one-time watch. Don't miss it.
Rating:

Want to see this movie? Check out Rediff Movie Tickets!