| | |
| --- | --- |
| Emraan Hashmi | |
| | |
| | |
| | |
| | |
| | |
| | |
Advertisement
May 16, 2008 18:18 IST


Arjun, a typically cinematic stubbly young scamster, looks bored as he tries to palm off fake merchandise to a boutique store. Negotiations are on in full swing when he catches sight of a pretty girl with pricetag-induced frowns. Abruptly, unthinkingly, he walks off and follows, ending up shattering a plate-glass window just to get her attention. And her name.

Security guards dragging him away, he smiles beatifically. Nothing else matters in the world now that he has her name, and it is this smile that we buy into -- this goofy, silly, childish grin smattered on the face of the otherwise streetsmart fixer -- and instantly realise just how appropriate Emraan Hashmi is for this part.

Sure, Hashmi can be criticised as a one-note actor, and it may well be true that this is the only 'kind' of role he can do: morally ambiguous, frequently fornicating, clever as often as romantically beguiled. Yet this particular persona is one he slips into with great comfort, inhabiting a swarthy everyman skin and making it believable.

Newcomer Sonal Chauhan plays Zoya -- yup, that is the aforementioned smile-provoking name -- and while the girl might look like yet another assembly-line Bollywood clone and a more striking version of Amrita Rao [Images], she does pretty alright. The film, despite all talk of match-fixing and Bob Woolmer [Images], is, at heart, this couple's tale, and so this pair manages to make it watchable.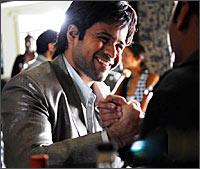 Jannat, directed by Kunal Deshmukh, is essentially fobbed off from the 2005 Al Pacino-Matthew McConnaughey starrer Two For The Money and given the full Vishesh Films treatment: those generic, mostly likeable whoa-whoa-whoa songs from Pritam; slick-looking editing that is all but economical; some hurried conflict around the intermission point; and an over-melodramatic climax that makes you cringe.
Having said that, for the most part, it coasts along smoothly without really boring you -- and that's more than can be said for most of the stuff in theatres these days.
In sum: Arjun is a ridiculously lucky compulsive gambler with an uncanny ability to predict cricket, right down to every single ball. He falls in love with Zoya, who is -- it must be said -- more than a bit of a golddigger, leading Arjun to grand gestures of ill-conceived extravagance. To justify this, he starts spreading his arms wider and becoming a bigger player, but weren't we always taught crime doesn't pay?
It's the kind of simplistic storyline that could have been wrapped up in half the time. Honest, you could have rolled end credits at the interval and it wouldn't make any difference whatsoever to the overall narrative. Sure, there is talk of cricket and match-fixing, but the sport is just a backdrop for Emraan's platitudes, or slight gimmicks like a dead coach or a cricket captain with a fondness for Rolexes -- taking over from US football in the original film. And while it is all surfacially stuck-on, it's handled deftly enough to keep the film flowing along.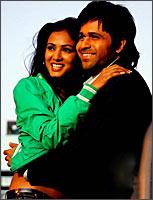 The supporting cast isn't bad. Vipin Sharma, poor man, goes incredibly from playing Darsheel Safary's father in Taare Zameen Par [Images] to Hashmi's dad here (!!) and does okay, while Samir Kochar is solidly effective as the cop on the hero's trail.
Jawed Sheikh makes a good baddie, and is particularly menacing while mixing thick chicory in a cup while sitting on a white sofa set, not least because he might spill some coffee.
Vishal Malhotra, however, plays Arjun's sidekick and hams with such glee it's as if he was stabbed with a soap-opera injection.
So while the 'broke to blood-money' template doesn't offer any surprise, Jannat all comes down to the romance. The girl is a callcenter executive who doubles up as a stripper? The guy is a hardcore pro but bawls like a baby to make another bet? It is the unpredictability these two promise that makes Jannat interesting, even if ultimately a bit of a con job. Heaven can wait.
Rediff Rating: