Home > India > Movies > Interviews

The Rediff Interview / Indrajith

Meet the villain of Kandaswamy

May 15, 2008



Indrajith is on a roll. The Malayalam actor has two big Tamil films lined up -- Kandaswamy directed by Susie Ganesan and Sarvam by Vishnu Vardhan (of Billa fame). Kandasamy will feature him as the baddie opposite Vikram.

With almost his entire family finding success in films (mother Mallika Sukumaran is a character actress and younger brother Prithviraj is the most happening actor in Malayalam and Tamil cinema), it was natural for Indrajith -- a software engineer -- to turn his attention to acting.

And that he did, with great success. But unlike his brother Prithviraj, he did not insist on doing the hero-act alone and went for roles of varying shades as evident in films like Meesa Madhavan [Images], Chanthupottu, Mizhi Randilum and Classmates.

Vijay caught up with the actor to find out more about this exciting phase of his career.

You seem to have shifted to Tamil cinema now.

I am thrilled about my two Tamil films. I will complete the shooting of Sarvam directed by Vishnu Vardhan (of Billa fame) before shooting for Kandaswamy in June.

Sarvam is about four people played by Arya, Trisha [Images], Chakravarthy and me.  It's a fabulous film, focusing on death. The four people do not know each other, but their characters are connected by death. Also, I am doing Malayalam film, Minnaminnikkoottam, with director Kamal.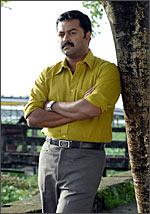 How do you select your films?
I am on the lookout for variety in the characters I play. I don't know much about my role in Kandaswamy but from what I have been told, it's a great one.
In Sarvam, I am a widower with a six-year old kid while in Minnaminnikkoottam I am a software engineer, who is married and naturally, the matured one in our gang. This shows that I am getting diversified roles, which is satisfying.
How does it feel to be part of the much-talked about Kandaswamy. What is your role like?
Kandaswamy's story is a closely guarded secret. From the brief given to me, my character is a multi-millionaire, who is stylish and selfish.
What is your concept of a villain?
My concept of any role is that it should have some prominence in the film; it should make a difference or at least a certain impact in the movie. But the concepts regarding baddies have been changing with the times. Again, all these are dependent on the kind of story being told. Don't forget that the heroes get more relevance as the baddies get more powerful. Villains have also become realistic.
Can you give us some names?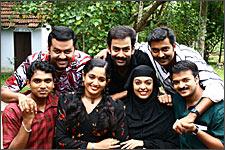 Actors like Raghuvaran and Parakash Raj unleash sheer magic on screen almost every time.
What is your role in Minnaminnikkoottam like?
Samvritha Sunil and I play a married couple in a group consisting mainly of young IT professionals. We are the matured ones of the group, and they look up to us. The film is about friendship and relationships.
Why is it that the young heroes find it difficult to find success in Malayalam?
Frankly, I don't think this problem is faced by young heroes only. Films like Kaiyoppu and Karutha Pakshikal also did not click at the box office. I believe that Malayalam cinema has become commercialised. The audience is looking only for entertainment and television could be one of the reasons for this change in preference.
Also, the films that don't have superstars in the lead will need at least a week before the viewers start coming in. Don't forget that even a whopping hit like Classmates didn't have a large audience during its first week. The problem is that with the number of theatres coming down substantially, such a period is never given. The latest victim of this situation was my own film Malabar Wedding.
How different is filmmaking in Tamil, when compared to Malayalam?
There is a different pattern and style there. Of course, the budget and time constraints are different as well. For instance, I saw the entire script of Sarvam much before the actual shooting began. The director told me clearly what he wanted of me, which made things easy.
Finally, among the characters that you've enacted on screen, which one was the closest to your original self?
(Smiles) The mild mannered Dr Arun in Mizhi Randilum was perhaps the closest to my original nature.