Home > India > Movies > Interviews

The Rediff Interview / Jaspinder Narula

Jaspinder Narula on winning Dhoom Macha De

May 12, 2008



Jaspinder Narula overcame stiff competition from 10 other singing superstars to walk away with the title of India's Best Live Performer after she won NDTV Imagine's Dhoom Macha De show.

Rani Mukherji [Images] presented the title to Narula at the grand finale, which saw a duel between Richa Sharma, Devang Patel and Narula.

Jaspinder shot to fame in 1998 after a duet with Remo Fernandez in Pyaar To Hona Hi Tha. She also sang for films like Dulhe Raja, Mission Kashmir [Images], Mohabbatein, Phir Bhi Dil Hai Hindustani and Bunty Aur Babli [Images].

Rajul Hegde asked Narula how it felt to win, and more.

Your first reaction on winning the title?

I am delighted to win the title. Winning and losing is a part of life. But the happiness of victory counts the most. I would like to thank the Almighty, all my friends and family, who supported me in this competition.

How did you celebrate your victory?

It was very personal. A couple of my friends had come over.

Whom do you credit your victory to?

I thank the Almighty for everything. My husband has come down from Canada [Images] to support me. He was here towards the later part of the show too.

What made you take up this show?

NDTV Imagine contacted me when I was in Canada and convinced me to take part in it. It was a chance to share the stage with many of my contemporaries. This was also a chance to show to all those people who thought my career is over that I am still in India singing.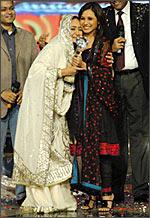 Did you get any other offer to sing in a reality show?
I had offers, but as a judge. I couldn't take them up due to date problems.
Are you based in Canada or India?
I live in Mumbai. My husband's business is in Canada, so we visit each other whenever we want to spend time together. We respect each other's work and have sacrificed a lot. 
How does it feel to be chosen as the best live performer amongst your peers?
This is a different show altogether. Everything was so perfect in all respects. I was destined to be the winner; it was my bhagya (luck) that I have won. Everyone is best in her/his own way. The viewers thought I am the best and have chosen me. I am really thankful to them. All my hard work has paid off. 
Did you ever feel that the judges -- Prasoon Joshi, Shankar Mahadevan [Images] and Sharmila Tagore Pataudi -- were unfair on the show?
The judges were good and I respect them. Only once, I felt they were unfair. It looked liked they were forced to be so. Technically, I felt I was good. I wanted to maintain my dignity so I did not say anything.
What was the best compliment you got?
I got the best compliment from Arbaz Khan, when he had come as a special guest. He told me that I am in no comparison with others. I have to compete with myself.
What is your take on reality shows?
This was a genuine show and everyone maintained their dignity. Reality shows are fun but they should be honest. But now with more reality shows, it has become monotonous.
You kept a low profile for some years. Why?
When things don't fall in place, you have to wait for it to happen. We must wait for the right time. I waited for the right time and it happened.
Some people feel that you can sing only devotional songs and Sufiana compositions?
I am a very emotional and spiritual person. When I sing religious songs, it makes a difference, it will touch your heart. I have sung all kinds of songs. I have sung in almost all the Indian languages and also in Arabic and Indonesian. My voice is suited best for romantic songs.
When did you complete your doctorate in Indian classical music?
In February, from Delhi University. I took 14 years to complete my PhD because I was busy with other things too.
What next?
I am working on a lot of films. I can't talk about it now. I am also writing a book on my PhD topic -- the influence of Urdu and Persian on Hindustani classical music.