Home > India > Movies > Interviews

The Rediff Interview

'I want my films to reach people'

R G Vijayasarathy | May 09, 2008


| | |
| --- | --- |
| A still from Thaayi | |
| | |
| | |
| | |
| | |
| | |
| | |
Professor Baragooru Ramachandrappa is one of the most progressive writers of Kannada literature, whose analytical and introspective articles on contemporary events have always opened up debates. Even today, he is considered as a 'model revolutionary' by young Kannada writers. Moving to films from literature was a natural process for him.
His first film Ondhu Oorina Kathe did not do well but Baragooru won the State government for best story and screenplay. He went on to direct films like Kote, Karadipura, Hagalu Vesha, Janapada, Kshaama and Shaanthi, and most of them won awards from the State and Central Governments. His film Shanthi entered the Guinness Book of World Records as the film that featured only one artist.
Baragooru's recent film, Thaayi, which won two National and two state awards has been released in theatres. 
You could release Thaayi only two years after its completion. Many of your films have not even made to the theatres though they have won awards. Don't you feel your intention to reach people through your films has not been successful?
All creative people want to reach people and I am no exception. I want my writings and films to reach people so that they can understand my point of view on many issues. But what can I do if such films are denied good theatres? Producers  should take interest in releasing their films in theatres. Despite my efforts, I have been unsuccessful. 
But the situation was different when I did my first film. I was only known as a good writer when I entered the film industry. I was able to release my first film Ondhu Oorina Kathe in a few theatres and the film ran for two weeks. But there have been several changes since then and the ripple effect of globalisation has affected many filmmakers, who were making artistic films.
In case of Thaayi, I should say the efforts of [producer] Prameela Joshai and her husband Sundar Raj have been successful and Pyramid Saimira have come forward to release the film.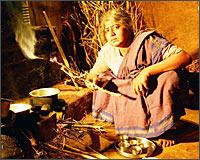 In such a scenario, how can filmmakers like you reach people?
I think we will have to make use of alternative channels to reach people. With existing theatre rentals and insensitivity of the people in trade, who are more concerned with commercial considerations, the artistic filmmakers should try to move to people on their own. We cannot negate the common man as we make films that are centred around him. 
I am not happy if only a few intellectuals see my film. I found an answer in reaching out to people through Jathas. When  Shanthi did not get theatres for screening, I took a Jatha from Belgaum from Bangalore to screen the film in major towns.
I took one print of Shanthi and screened it at select drama theatres. I got projectors from the information department of the government. I am happy that in my 30th day of Jaatha, more than 50,000 people saw my film and appreciated it. It is a good way to screen films to people, who want to see good films.   
But how many people can do it? Today, we see that even internationally reputed directors like Girish Kasaravalli's films are not released in theatres, except, say in Bangalore.
(Laughs) My films do not get a theatre even in Bangalore. 
Jokes apart, if this can happen to Girish Kasaravalli, then what about young people, who want to make different kinds of films? That is why I always wanted to create awareness among people about artistic films. Unfortunately, in Karnataka, the film society movement is not as strong as say, it is in Kerala [Images].
If the state government can chip in by providing projectors in the drama theatres owned by it, it would be easier for the filmmakers to reach out to people. I am very happy that filmmaker B S Lingadevaru took the prints of his award winning film Mouni to be screened in his native place and many places in the Tumkur district.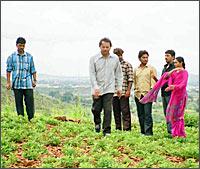 About Thaayi, what made you adapt Maxim Gorky's novel when you have made films based on your own writings earlier?
The present situation in the country made me re-evaluate Gorky's novel, which is one of my favourites. The pre-revolutionary period in Russia [Images] is not different from the existing situation in India. The poor and the working class are exploited by the capitalistic class and they want to establish a colonial Raj. Globalisation and reforms indicate the comeback of exploiters. 
I changed the backdrop but included all the incidents from the novel to make Thaayi. Even the major characters in the film are same as the characters of Gorky's novel. 
The narrative is slow in Thaayi. Why do artistic filmmakers make films at a slower pace?
I cannot answer on behalf of other directors. But as far as I am concerned, the pace of my film is determined by the subject I choose. All my films are not slow. Kote did not have any dialogue and Shaanthi was a silent film with only actress Bhavana in it. I don't think these films needed a faster narration. 
I take on directing such films, as it is a challenging task for any director. Thaayi's pace suited the script. Many people who have seen Thaayi told me that the film picks up the tempo slowly but it is successful in conveying the message.     
You made a commercial film Hagalu Vesha with a star like Shivaraj Kumar. Why have you not been making films with top stars?
I am making films with well known stars only. I made Shaanthi and Kshaama with Bhavana and Janapada with Radhika. Thaayi also has artists, who are well established in the industry. I will be happy to work with top stars but there should be a willing producer to back the project.  
You wrote the script for Janumada Jodi for Nagabharana, which became a blockbuster. But you have not written scripts for any other director since then. Is it because that you want to script your own films?
I wrote the script of Janumada Jodi because I had to respect the request of Dr Raj Kumar and his wife Parvathamma Raj Kumar, who made the film. The film's story had the elements of folk culture, which made me take interest in it. I am happy I got an award and the film became a blockbuster.