Home > India > Movies > Reviews

Kantri: NTR's show all the way

Radhika Rajamani | May 09, 2008 17:33 IST



A dapper NTR holds sway on the screen in the Telugu film Kantri. Be it the action sequences, the songs or dances -- NTR is just all encompassing. He's got some punchy lines to narrate too, thanks to debutante director Meher Ramesh.

In short Kantri is NTR's show all the way -- a show about how he beats up four baddies Potha Raju -- PR (Prakash Raj [Images]), Sheshu (Ashish Vidyarthi), Das (Sayaji Shinde [Images]) and Murali Sharma.

The opening scenes give you an indication of how the movie is going to shape up. NRI Krishna returns to his village with his wife and child to work for the upliftment of the village folk. However, when the family along with his old father is on its way home with the money, fellow villager PR backstabs, kills all and runs away with the money leaving his wife and son behind.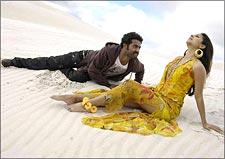 PR is head of a huge empire (with his friend Sheshu as partner) and is into all kinds of nefarious activities.
Enters out hero, Kranti (NTR), who flexes his muscles, shakes his leg and gets into the gang of PR to earn money for his orphanage, where he grew up (he's orphaned at a very young age).
Kranti falls in love with Varalakshmi (Hansika Motwani [Images]) who is such a lucky girl that she wins a foreign trip, a house and household gadgets for her family. Varalakshmi initially does not like Kranti.
An ambitious Kranti, meanwhile rises up pretty fast in life and meets PR in Hong Kong. The director takes the audience to believe that Kranti is PR's son till the twist in the tale. The story has the usual elements of gang fights and violence.   
Meher Ramesh lives up to being Puri Jagannadh's protege in infusing slickness and violence into the film. The action scenes are orchestrated with many special effects.
As far as the story goes, however, Meher has nothing new to offer. He does take the beaten path in making a hero-centric film with the theme of good versus evil and the usual masala elements. The film is a bit lengthy too and after a point, it just meanders aimlessly.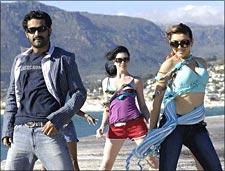 Performancewise, NTR stands out with his looks and talent. After many years he has donned a dhoti as part of a classical dance item for a few seconds (actually the song is an incorporation of classical and western beats). Given his prowess in dancing, there are enough songs where he showcases his skills. He also switches effortlessly between action, dance and emotional scenes.
Bollywood glamour girls Hansika Motwani and Tanisha Mukherjee exude oomph. Hansika, as the lead heroine makes a pretty picture. Tanisha has nothing much to do.
All the baddies -- Prakash Raj, Ashish Vidyarthi, Sayaji Shinde and Murali Sharma -- are at their villainous best.
The comedians Sunil, Brahmandam, Venu Madhav and Krishna Bhagwan make their mandatory entry to infuse some lightness in the film, which is unwarranted.
Manisharma's music is variegated.
All in all, fans of NTR will surely enjoy their hero's job in the film. For the others it's passable fare.
Rediff Rating:

Want to see this movie? Check out Rediff Movie Tickets!