Home > India > Movies > Reviews

Jimmy is a disaster

Patcy N | May 09, 2008 18:44 IST


| | |
| --- | --- |
| Mimoh Chakraborty and Vivana in Jimmy | |
| | |
| | |
| | |
| | |
| | |
| | |
In this day and age when debutants are well-groomed, trained in action, dance, and most importantly, dialogue, diction and acting, it's shocking that Mimoh Chakraborty looks so terribly unprepared.
In Jimmy, Mimoh looks plump and physically unfit. His dialogue delivery is poor, his eyes expressionless and performance wooden. His dance -- which was promoted as one of the highlights of the film -- are badly done. His hairstyle and costumes don't suit him, and he really looks like a poorly groomed kid on the block.
And it's even more shocking because Mimoh's father -- the veteran actor Mithun Chakraborty -- was one of the most stylish actors of his time, and a terrific dancer. He has three National Awards to his credit, one of them for his very first film, Mrigayaa.
Not to forget Mimoh's mother, Yogeeta Bali, who made some good films like Parwana, Nagin and Biwi O Biwi, before she settled down to matrimony.
It's shocking that they thought Jimmy was the right film, the right script and the right time to launch their son -- a film that was lying in the cans for almost two years because no one was interested.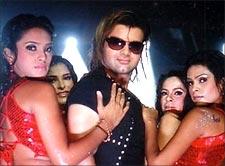 Maybe more time should have been invested in grooming and training Mimoh, then his debut would not have been so disastrous. Jimmy may not even get a good opening with Mithun's fans.
The story goes like this: Jimmy (Mimoh) is an automobile engineer by day and a deejay by night. One day, he learns that he is suffering from brain tumour, and has only a few days to live. But he has to pay off a huge loan before he dies. So he takes the blame of a murder, committed by someone else, and gets Rs 50 lakh for his troubles.
But just when his problems get resolved, he gets attacked in jail. What happens next forms the rest of the film.
The film is a mishmash of three films -- Amitabh Bachchan's [Images] Majboor, Abhishek Bachchan's [Images] Bluffmaster [Images] and Suniel Shetty's [Images] Khel.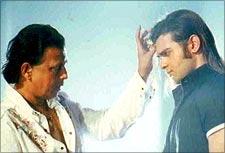 The film is directed by Raj N C Sippy, who gave us such classics like Satte Pe Satta, Inkaar and Boxer. But he seemed to have gone wrong horribly in this film, which looks like a bad 1970s movie.
There are too many songs in the film, and none of them are even hummable. Marhaba is the only song that has been well choreographed. 
The supporting cast is terrible as well. Zulfi Syed [Images], Rahul Dev and newcomer Vivana should take acting classes.
This film is so bad, it doesn't even deserve stars. You start yawning within a few minutes into the film. And the entire film reveals itself in the first half hour.
Want to see this movie? Check out Rediff Movie Tickets!