Home > India > Movies > Reviews

Tuzya Mazyat could have been better

Daajiba Kondke | May 02, 2008 14:38 IST



Sachin Khedekar's new Marathi film, Tuzya Mazyat, doesn't quite follow the usual storytelling method. And this is one of the main reasons why it has failed to create an impact.

Tuzya Mazyat is produced by Shivajirao Chamkire under the Influx Ideas banner and has been directed by Promod Joshi.

Shashank (Khedekar) and Asmita (Mrunal Kulkarni) are a divorced couple. But there is a strong bond linking the two -- their children, Nisha and Shubham. The children stay with their mother and visit their father, who gets married to Radhika (Sulekha Talwalkar), in the weekends.

Radhika tries her best to be a good mother to Shashank's children but Nisha cannot accept her. One day, Asmita tells Shashank that she wants to work again, and wants him to take care of the children. Shashank agrees readily, as does Radhika.

One day, Radhika spots Asmita with a stranger. The situation takes an ugly turn and Shashank demands an explanation from Asmita. That's when a shocking truth is revealed...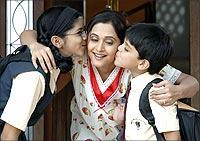 The twist, in fact, is so shocking that a seemingly good story suddenly seems to go haywire. The film starts off very well, but the twist stays with the audience until the end. The director plays the emotional card too much -- the entanglement between Shashank and Asmita, Radhika's trauma while trying to balance between her job and family responcibilities, the relationship between Shashank and Asmita.
But after the twist, he loses focus.
The story is by Shekhar Dhawalikar and Promod Joshi. Shekhar's script and dialogues deserves mention.
Sachin Khedekar is brilliant. Mrunal is a seasoned actress, and does well soon. Sulekha portrays Radhika very well too. Child actors, Kaumudi Valokar and Shreyas Paranjpe, are naturals on screen.
Asha Bhosle [Images] returns to Marathi cinema after almost eight years. Sadly, her songs lack magic.
One can say the same about the film. It is good but could have been much better.
Rediff Rating:

Want to see this movie? Check out Rediff Movie Tickets!