Home > India > Movies > Reviews

For Arshad Warsi fans only

Ameeta Gupta | May 02, 2008 20:19 IST


| | |
| --- | --- |
| Suniel Shetty and Arshad Warsi in Mr White And Mr Black | |
| | |
| | |
| | |
| | |
| | |
| | |
After his daring and successful attempt with Julie, director Deepak Shivdasani makes a comeback after four years with Mr White And Mr Black, starring Arshad Warsi [Images] and Suniel Shetty [Images].
The film starts off with India's answer to Charlie's Angels, led by the feisty Sandhya Mridul, Australian beauty Tania Zaetta and Miss Thailand Kamala Ning, carrying off an elaborate diamond heist. The action sequence is well done, and some of the moves look like they're straight out of Matrix. But after this promising start, the film falls flat.
The story revolves around Gopi (played by Suniel Shetty), who arrives in Goa [Images] in search of Kishan (played by Arshad Warsi). Gopi or Mr White has a heart of gold, and is a staunch Hanuman [Images] follower. Krishan or Mr Black is a conman by profession, but he's good at heart. He's swindler for only one reason -- to fund his sister's education in London [Images]. (Divya played Mahima Mehta)
In the first half of the film, Kishan is constantly on the run from Gopi. During the course of the film, the relationship changes, and the two become good friends and live happily ever after with their respective women. If only the film was that simple. There are too many subplots and characters.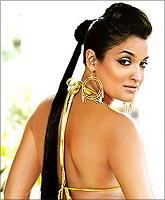 The rest of the cast includes Rashmi Nigam [Images], Anuradha, Anishka Khosla, and Sharat Saxena.
Arshad Warsi is in his element here, and steals the show. He has the best lines and his timing is impeccable. The female trio are just as fun to watch. Suniel Shetty does his best in his limited role. Ashish Vidyarti as the melodramatic don is hilarious at times.
The film has its share of flaws too. There is too much unnecessary drama, and the comedy scenes are few. And one wonders why so many jokes are repeated over and over again. From the trailors, one expected a hilarious comedy thriller. But the film disappoints on all counts.
Music is average. The only good song is Samandar.
Mr White And Mr Black is not for everyone. Watch it only if you're an Arshad Warsi fan.
Rediff Rating:

Want to see this movie? Check out Rediff Movie Tickets!