| | |
| --- | --- |
| Dino Morea and Minissha Lamba in Anamika | |
| | |
| | |
| | |
| | |
| | |
| | |
Advertisement
May 02, 2008 17:32 IST
You know what's worse than a copy? A bad copy.

Instead of simply reproducing the existent material in all its glory, the makers introduce lousy elements and single-handedly demolish the very core that made the original so mind-blowing in the first place.

Ananth Narayan Mahadevan's Anamika suffers from this disability, big time.

It borrows heavy inspiration from Daphne du Maurier's novel, Rebecca, which was brilliantly adapted into a Oscar-winning mystery by Alfred Hitchcock and hauntingly interpreted under Biren Nag's direction in the Waheeda Rehman-Biswajeet B/W classic, Kohra.

If Rebecca, the film was high on nail-biting intrigue and human complexities, Kohra boasted of innovative technique (abundant use of fog, dramatic camera angles) and an excellent score (Yeh nayan dare dare, O bekarar dil, Jhoom jhoom dhalti raat) by Hemant Kumar.

The poorly-scripted Anamika hasn't got any of these above mentioned qualities to keep it going. It substitutes the seductive temperament of mystery with pointless ambiguity amplified by sound effect-friendly red herrings.

A pity, considering the essence of Rebecca lies in the impulse, intent and intensity of its complicated protagonists. It employs the human psyche as a weapon to create an air of mystifying energy.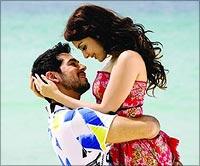 Anamika, on the other hand, is about an orphan girl Jia (Minissha Lamba [Images]) struggling to make ends meet as a part-time escort and tuition teacher. Gauging by the number of apologies she renders throughout the film, Jia is clearly a case of low self-esteem. And so when fortune seemingly favours her in the form of a widower businessman, Vikram Shisodiya (Dino Morea [Images]) and his three-karat 'Will you marry me?', Jia grabs the opportunity to be Biwi no 2 like strawberry gelato in Death Valley heat.

The whole courtship, namely a quickie dream sequence in Thailand, is rushed, unconvincing and devoid of any chemistry. The newly married couple arrive at their palatial home in Gajner, situated in the arid landscape of Rajasthan. It's a picturesque setting, alright. Pushan Kriplani's aseptic camera-work, however, fails to explore the potential of the subject or its surrounding.

Overwhelmed and intimidated by the grandeur and the larger-than-life existence of the mansion's previous mistress, Anamika -- Jia makes futile attempts to fit in. Unfortunately, hubby neither approves of her designer wardrobe nor whets her curiosity about the deceased ex.

The so-called puzzlement behind Anamika's overpowering existence and enigmatic demise is further intensified with the presence of subsidiary characters like Vikram's elder sister and brother-in-law (a spirited Achint Kaur and Gulshan Grover [Images] playing the suspicious cop stereotype), childhood buddy cum house caretaker Malini (Koena Mitra [Images]) and and a cheesy cousin-in-law (Jatin Grewal makes an indifferent impression).

Half-baked emotions or the absence of sound motive in a whodunit are never easy to digest. And so, even after finding out the truth, which is so contrived by the way, it's impossible to make sense of any of Anamika's protagonists. There is no valid explanation for Vikram's constant foul mood. Or his reluctance to share the truth with Jia. Also, why is Vikram's brother-in-law shown resentful towards him when there isn't any real problem?

Since, there's no real suspense, the lacklustre build-up and forced animosity seems entirely irrelevant.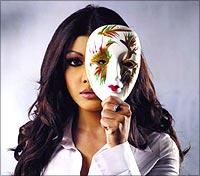 Minissha's Jia comes across as a inconsistently submissive and inquisitive. One minute she is all 'Don't talk to me. Scold me. But don't leave me.' On another, she is ordering the latest ensembles from international fashion catalogue in another.

Despite a sketchy role, Minissha is the only one 'acting' in this entire sham. While she could certainly work on her dialogue delivery, her radiant screen presence and suitably baffled disposition works like a charm. Her on-screen hubby, Dino Morea, makes for good eye-candy. But that's as far as it goes. His expressions don't stretch beyond a photogenic frown. Koena Mitra gives deadpan a new meaning. Besides her lips, which move occasionally to speak, everything else remains strictly stationary.

Narrative has never been Mahadevan's forte. Surprisingly, neither is imitation.

He credits himself for this wishy-washy remake of Rebecca which bungles up the original's motive and where dialogues -- bland, uninspired conversation filled with never-ending paeans of a certain Mrs Shisodiya. It's always Mrs Shisodiya likes this... Mrs Shisodiya would do it this way -- are a mere excuse to prevent Anamika from becoming a silent film.
 
Frankly, you are better off reading the book or watching its old remakes. Perhaps that's what most viewers did, going by the six members in the audience, including yours truly.

Rediff Rating: