Home > India > Movies > Interviews

The Rediff Interview

'I wrote the script of Anjathe out of anger'

Shobha Warrier | March 24, 2008



One of the biggest hits of 2008 is Mysskin's Tamil movie, Anjathe, also hailed as one of the best films made so far this year. When I met the director at his office, he was in a very jovial mood, relishing every moment of his success.

Read on as Mysskin talks about how Anjathe was born and what his future plans are. Excerpts:

Did you expect this kind of response to Anjathe while you were making it? Did the response surprise you?

I would say I am overwhelmed by the response. Yes, it did surprise me. What is life without surprises? We live to experience such surprises. As you know, this film is being released two years after my first film Chithiram Pesuthadi. I wrote the script of Anjathe out of anger.

Anger?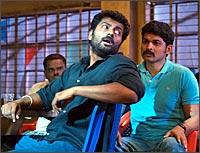 Yes. Movies are a passion for me; they are my life. Is it not unfair to wait for two years for your next movie though your first film was successful? I wrote two scripts; nobody was interested in Nanda Lala and the second one was so big that nobody came forward to fund such a project. The production cost itself would have cost Rs 30 crores!
When there were no takers for both the scripts, I felt extremely depressed and angry, which I feel was unnatural. That anger made me write the script of Anjathe, which I finished in 36 days. Then I approached some producers and all of them wanted me to make changes in the script, changes I was not willing to make.
What changes did they want you to make in the script?
They wanted more romantic elements, songs and everything that wasn't there in the script. But I stuck to the decision that this was the way I was going to make the film. So, I was walking out of production houses regularly. At any cost, I was not willing to make any compromise. Then I met this producer and he gave me full freedom and within seven days, I started shooting.
The script was written the way I felt and that is why it is a bit long. Also, the second half has a semi-documentary feel. But I had to document the life of a cop that way. The friendship of the two persons became a sub plot though I started it the other way.
Do you mean once you started writing the script, it changed its course on its own? The characters decided their destiny without the permission of the creator?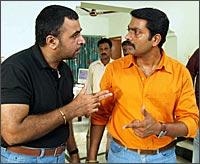 Exactly. I let the characters take the course they wanted to. I, the creator became a pawn in their hands. They took me in a direction they wanted to go. In the case of Nanda Lala too, the characters decided what they wanted to do.  As a writer, I had no desire to control my characters. I just let them move in life.
Did you model the protagonists on any real life characters?
Yes, I modelled the cop (played by Narain) on a friend of mine, a straightforward cop in real life. I had lived in a police colony for a few years and that is how I modelled the ambience. All that happens in the film are recreated from what I had seen in the colony. The spark of the story was my friend and from there on, everything just flowed.
The two friends had dreams and ambitions but destiny had other plans for them...
Yes, dreams and destiny may not be the same always. That is what happens in real life. You can do so many things in life; but only you decide to be a thief, fate does not decide it for you.
I feel things happen in your life randomly. There is chaos everywhere and as a writer, I have to give it order.
So, you feel the order you gave to the chaos worked with the audience?
Yes. It is like my audience travels along with me and my characters in the film. It means me and my audience are travelling together, holding hands. Finally when the travel is over, they come out of the theatre feeling happy and satisfied.
Generally filmmakers say nobody understands what the audience wants...
I am not saying I understand the pulse of the audience and all my films will be hits. I am not talking about box office collection or commercial success. I am talking about moments. After they come out of the theatre watching Anjathe, they don't talk about the whole movie; they talk about one scene, that of the old grandmother sprinkling flowers. They also talk about Kuruvi's death. What I am saying is, in any movie, whether it is a commercial success or not, we can create such moments and they are very important.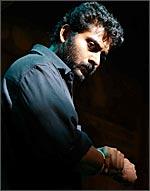 To me the success of Anjathe is when people come and tell me about how they felt about seeing the grandmother sprinkling flowers. She is not the main character in my film; I don't even have a close up of her. She is like a fairy mother coming to help.
While making the film, did you expect that scene to have such an impact?
While writing, I could feel the impact.
Did it move you while writing?
I am a passionate and intense writer. I feel for all my characters while I write. I cry when my characters cry, laugh when they laugh. I cannot be indifferent to my characters because a part of me is there in all my characters. So, I have to go through all the emotions. I learn what is hidden inside me with each script.
You said, in the last two years many people asked you to write scripts for heroes and producers. Did you compromise?
There are elements there in Anjathe like a fight and a song which I did for the producer. I agreed because I didn't want to miss the chance of making Anjathe because of those two things. They wanted a replica of the song Vaazha Meenukkum. So, I thought what should I do? I decided to cut down the erotic parts in the song and shoot the song. Yes, I was not happy with a few things. Making a film is like waging war!
Will you ever write a script with a hero in mind?
It is wrong. It is anathema to me. If I write a script for a hero, I will become a script-prostitute.
Do you feel a day will come when you will be able to make a film on your own terms?
It is already coming, not only for me but for all those who want to make good films. I am hopeful.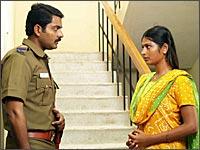 What gives you hope?
The response of the audience.  How many people talked about the song or the fight after watching Anjathe? They talk about the paatti. That is our triumph.
How important is it for you to get the right cast?
It is important.
Is that the reason you decided to have Narain again?
Some of the heroes I approached rejected the project. They wanted me to change the script which I was not willing to do. Then I called Narain and told him the story. He immediately agreed.
So, Narain was not the first choice?
No, he was not. I didn't want to give the feeling that only Narain and Mysskin combination work. I am happy that he did the role. His role has been appreciated a lot. Prasanna wanted to do the villainous role as he wanted to come out of the 'chocolate boy' hero image.
Many people say that Anjathe is the best movie made in 2008 so far...
I can only say I am thrilled. Many great filmmakers like Balu Mahendra and K Balachander watched the film and appreciated it. Mani Ratnam watched it and said it was good. He said he wanted to talk to me in private.
You said you knew the movie was a trifle long. Didn't you feel like cutting it short?
It is like reading Herman Hesse's Siddhartha and Dostoyevsky's The Brothers Karamazov. Some books are short and some long. I told an interviewer when he asked the same question, I want my audience to be in the theatre for more time. What are they going to do when they go out? The same grind. Let them be with my film, me and the dream world...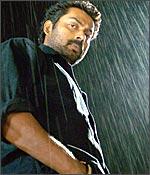 I am joking! It was my mistake that I wrote a long script. I am sure I will write shorter scripts hereafter.
What is your next movie going to be?
Mostly Nanda Lala. It is about two kids travelling together to find their mothers; one is a seven-year old boy and the other though 20 has the mental age of a seven-year old. They both meet and start the journey together. I am trying to get the right kids for the film. The moment I get them, I will start shooting.
Is it easy to get a producer now that Anjathe is a huge hit?
No. they ask me, why don't you make films with big heroes? Why do you want to make a small film like Nanda Lala?
I feel there is a child in all of us and as we grow older, we lose the pristine beauty of childhood. You look at films like Bicycle Thieves, Life is Beautiful Ray's Pather Panchali; children play a major role in the films. I feel even if an alien watches Pather Panchali, it will be moving.
Has Satyajit Ray inspired you?
My greatest inspiration is Kurasowa followed by Takeshi Kitano. Of course, Satyajit Ray is also there. That is why I have their photos in my room.