March 24, 2008 13:37 IST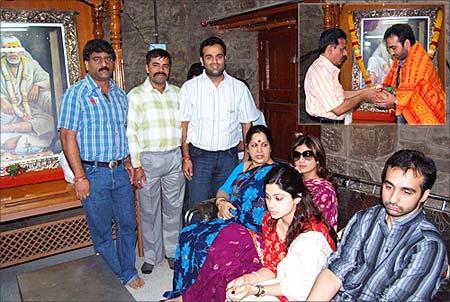 Readers, you may congratulate yourselves for being the best citizen journalists. You were the first to send us pictures of Abhishek Bachchan [Images] and Aishwarya Rai's [Images] wedding last year, and every time you bumped into a celebrity.
Now, a reader has sent us pictures of Shilpa Shetty [Images] and her fiance Raj Kundra at the Shirdi Saibaba shrine.
Speculation is rife that the couple got married in secret, and went straight to Shirdi to seek the blessings of Saibaba.
Mother Sunanda and sister Shamita were also present with the couple.
But it is uncertain whether London-based businessman Raj Kundra's divorce with wife Kavita, has come through.
The last time we saw Shilpa and Raj in public were when they were holidaying in Goa [Images].