Home > India > Movies > Bollywood News

Guarding SRK in Om Shanti Om!

Steven Baker | March 05, 2008 13:23 IST



Simon who? Shah Rukh Khan's [Images] bodyguard. That's who.

Movie buffs may recall Simon as the bodyguard, who appeared constantly by the side of Shah Rukh's Om Kapoor character in the blockbuster, Om Shanti Om.

Clad in a black suit and dark glasses, the six feet three inches tall Australian-born actor cuts an imposing figure on celluloid. At the scheduled interview location -- a Mahim coffee shop on the edge of Mumbai's filmi society -- excited whispers of Om Shanti Om rebounds as Hewitt enters.

So how does a 30-something Australian end up in an SRK-starrer? "I got the part through an audition," Simon answers, "In fact, I got a couple of films for SRK's [Images] production house Red Chillies through that audition; the other being My Name Is Anthony Gonsalves."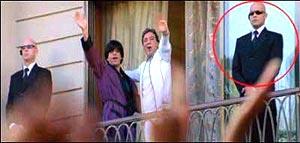 Hewitt, who swapped Melbourne for Mumbai four years ago, states, "I knew Om Shanti Om was a big film. The hype was huge even before we had finished it. But who could have foreseen the circus that was to come following the release?"
Looking back on the experience, Simon reflects, "I shot for 25 days over four months. I had no idea what the film was about while I was shooting. In fact, it seemed a bit silly. But of course, at that stage, I didn't know it was deliberately tongue-in-cheek."
Of the superstar himself, Simon says, "Shah Rukh seemed like a nice guy. A good mix of being both intelligent and practical. In one of the shots, he fixed my sunglasses when they kept falling off my face."
Simon says the star is quite approachable as well. "He seemed busy but not stressed. I didn't have the same awe of Shah Rukh as the others, and would often sit next to him to watch the monitors.
"Farah, on the other hand, used to stress me out with her microphone," Simon says. The actor remembers a time when he was needed at the last minute to shoot the Deewangi Deewangi song (which was picturised on 31 stars). However, Simon was out of town and could not be contacted. Fortunately, Farah was forgiving when she found out that Simon's date problems were the result of an outdoor shoot in Bangalore with Aamir Khan [Images].
It is not everyday that an actor gets to shoot every single scene with Shah Rukh Khan. And that too without any dialogue. "Twenty five days of shooting and not a word spoken, that's got to be some kind of film record," joked Simon. "Actually, I got to say one word. I remember when it was time to shoot that section, Shah Rukh laughed saying, 'live it up', knowing it was the only word I would get to say."
And Simon's last word on SRK? "The guy is pretty mellow."
Text: Trans World Features (TWF)